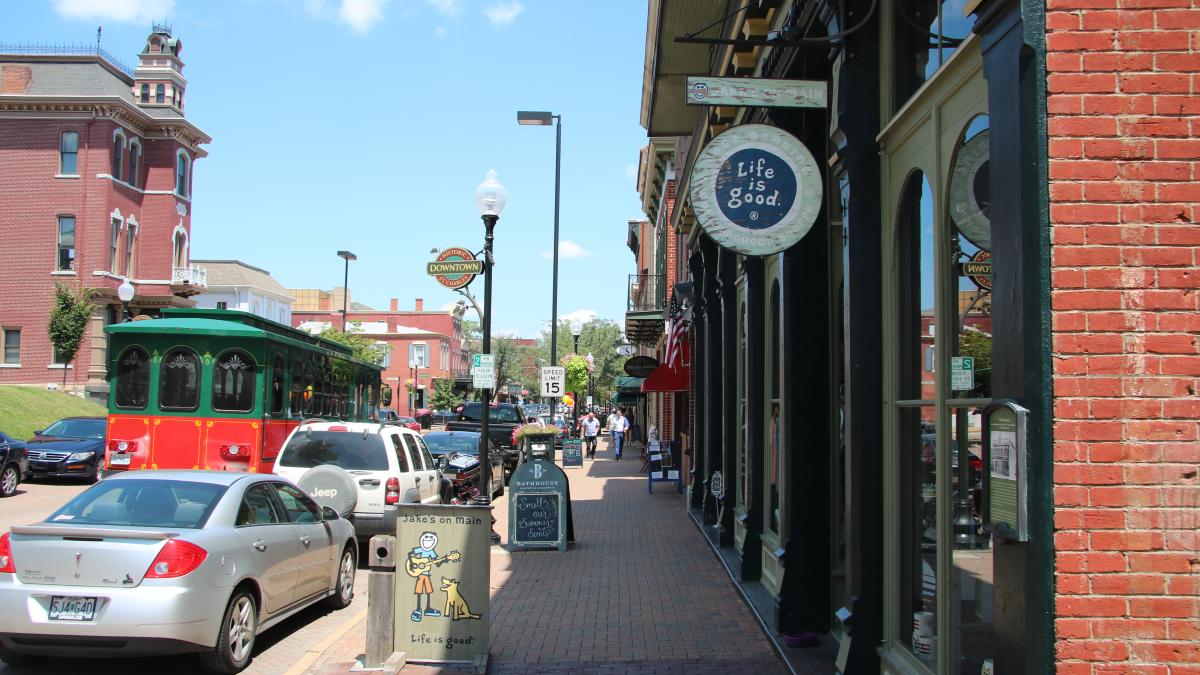 The kids are going back to school, and parents are finally getting enough sleep to think about having some fun. Here's a list of the goings-on this August to help fill your newfound free time!
St. Charles Municipal Band Concerts
WHEN: Thursdays 8 PM (No Concert Aug.16)
WHERE: Jaycee Stage in Frontier Park
WHEN: Monday-Saturday, 11:30 AM- 9:30 PM, Sundays at 11:30 AM- 7:30 PM
WHERE: Downtown St. Charles
Hop on & off at any of the designated stops. It's free!
The St. Charles Lions Club Farmer's Market
WHEN: Saturdays 7 AM-Noon
WHERE: Foundry Art Centre parking lot
The Farmer's Market is sponsored by the St. Charles Lions Club and is open Saturday mornings through October 27.  Vendors will be selling fresh produce, vegetables, plants, jams/jelly, honey, and much more. While there, stop in the Foundry Art Centre and explore their exhibits.
WHEN: Friday, August 10, 10 AM- 3 PM
WHERE: First MO State Capitol State Historic Site, 200 South Main Street
It's Missouri's birthday and you're invited!  Come help celebrate the 197th anniversary of Missouri becoming a state.  Enjoy the World Bird Sanctuary "Raptor Awareness" program at 1 PM along with other special demonstrations and programs.  The public is invited to the open house to view the buildings where our first legislators and senators met from 1821-1826 and learn about Missouri's road to statehood.  Plus there will be free birthday cake.
WHEN: Sunday, August 12, 7:30 PM
WHERE: The Jaycee Stage in Frontier Park
Tap your toes, dance along, or just sit back and relax to music covering the 1930s to 1990s.  Bring your chair to this free concert.
WHEN: Wednesday, August 15, 5-7:30 PM
WHERE: North Main Street
Join the Historic Downtown District in the 100-200 Blocks of North Main for a street party with Music by Pepperland (songs of the Beatles), performing boogie, blues, swing & rock.  This series continues the 3rdWednesday of the month through September.
WHEN: August 17-19  
WHERE: Frontier Park & Main Street
Festival Hours: Friday 4-10 PM, Saturday 9:30 AM- 10 PM, & Sunday 9:30 AM- 5 PM
The Festival of the Little Hills is the Midwest's Premier Arts and Craft Show. St. Charles' largest festival of the year showcases more than 300 craft vendors, 50 not-for-profit organizations selling culinary delights, live music and entertainment, and the Kids Corner.   
Click here to read our blog post about the festival.
Race for the Rivers/ Outdoor Days
WHEN: Saturday, August 25  
WHERE: Frontier Park
The Canoe Race:  20-mile and 40-mile Missouri River canoe, kayak, and SUP race give paddlers the opportunity to actively promote clean water education, restoration, and recreation.
The Bicycle Ride: Bicyclist enjoy a beautiful 35-mile ride over and alongside the MO River on the Katy Trail from Washington to St. Charles.
The Festival (11 AM- 5 PM): Join Greenway Network and Bass Pro Outdoor Days at the finish line for great food, live music, and fun activities that highlight easy ways to encourage and enjoy healthy rivers.  Plus great activities for kids to help them learn about streams and healthy options. There will also be artists & green vendors selling their creations.
Streets of St. Charles
Sunrise Yoga on Beale Saturday, August 11, 8 AM-9 AM  "All are welcome! Classes are accessible to those who are new to yoga, as well as experienced yogis."

Streets of St. Charles Beale Street Concert Series
WHEN: Wednesday, August 8, 6-8 PM
WHERE: The Yacht Rockers

Enjoy Live Music (bring lawn chairs) and purchase food & beverages from the restaurants at The Streets.  This series continues on the 2nd Wednesday of the Month through October.    *No Rain Dates, No Coolers, No outside Food/Beverages   (Upcoming Dates:  Sept. 12 – Marquise Knox; Oct. 10 – Dr. Zhivegas)
For more information about events at the Streets of St. Charles, click here.
St. Charles Convention Center
14th Annual Healthy Living Senior Fair Tuesday, August 14, 10 AM-2 PM.  Vendors, Health Resources, Senior Services, and more. 

STL Pop Culture Con:  August 17-19.  Fri. 4-9pm, Sat. 10am-6pm, Sun. 10am-4pm   Over 25 Celebrities, Vendor Tables & Booths, and Hollywood Merchandise 
Tickets: $25-$35 before July 31, $30-$40 after August 1st.

Show Me Sweets – A Sweet Edible Art Show:  September 8-9   Cake Battles, Vendors, Confectionery Classes & Demos, plus so much more. 
Admission $20

38th Annual Builders Home & Remodeling Show:  September 21-23  *  Fri. & Sat. 10 am - 7 pm and Sun. 10am-5pm, Free
For more information about events at the Convention Center, click here.
Current Exhibition:  COLORLESS.  Ends August 10   This all-media exhibition invites artists to submit works based on their use of a "colorless" palette.  Sometimes a monochrome palette can say more than a full spectrum of color and create a striking contrast.  Artists are invited to share work that is composed of a majority of black, white, and all shades in between.

Exhibition:  Micro-Macro. August 17-September 28  (Opening Reception on Friday, August 17 from 5:30 - 8 pm)   For this exhibition, size matters.  This show will display two opposites: one half focusing on small works (micro) and the other half focusing on works larger than 48 inches (macro).  This exhibition is open to all two-dimensional and three-dimensional media and themes.   

The Arts & Literary Festival. Saturday, August 25 10 AM- 5 PM

Regional authors, poets, and artists, plus live music, interactive children's museum, giveaways, and more.  Storytime with Daniel Tiger  --  pick-up your tickets at the Foundry.  Concessions available.  The Bubble Bus at 11 AM & Bobaloo performs at Noon.

Decorated Sugar Cookie Classes:  Join Jackie from SugarBot Sweet Shop at the Foundry Art Centre on the 1st Sunday of every month from 1-3pm to learn the basics of decorating beautiful sugar cookies with royal icing.   This class is adult (18+) beginner level, $40 person, pre-registration is required.  Themes:  Aug. 5 – Back to School; Sept. 1 – Sweet September; Oct. 7 – Halloween!; Nov. 4 – Fall Fun; Dec. 2 – Winter Wonderland.  Call SugarBot to Book Your Spot – 314.961.9104.    

Spiro's Thursday Lunches. Thursdays, 11:30 AM- 1:30 PM.  $12 person  – Spiro's Catering presents delicious and authentic Greek cuisine.

Exhibition:  Out of the Woods: Celebrating Trees in Public Gardens  WHEN: October 5-December 28.
For more information about events at the Foundry Art Centre, click here.
2018-2019 Series – All season they'll be celebrating TEN YEARS of entertainment, LIVE at Lindenwood University.
The Temptations & The Four Tops:  September 8  
Celebrating 50 years of Motown classics, 8 PM, $50-$90
Scotty McCreery: September 14  
Season 10 winner of American Idol, country music artist, 8 PM, $30-$60
The Fab Four, The Ultimate Tribute:  September 22  
Beatles Tribute Band, 8 PM, $30-$70
Bill Engvall: October 8  
Top Comedians and recording artist, 8 PM, $60-$100
Postmodern Jukebox: October 13   
Back in Black & White Tour, 8 PM, $40-$80 
The Carpenters Tribute: December 15  
A Very Merry Christmas, featuring Michelle Whited, 7:30 PM, $30-$70
The Celtic Woman - Best of Christmas: December 21  
Multi-platinum Irish singing sensation, 8 PM, $70-$110
Rick Springfield: January 26, 2019 
'80s Grammy-winning singer, songwriter & musician, 8 PM, $60-$100
Waka Flocka Flame:  February 2, 2019
Global rapper, 8 PM, $11-26
Patti LaBelle: March 22, 2019
World renown belting out classic rhythm & blues, pop, & spiritual, 8 PM, $70-$110
Patti LuPone: May 11, 2019
Two-time Tony Award Winner, 8 PM, $60-$100
Trace Adkins:  May 18, 2019
Member of Grand Ole Opry & winner of Celebrity Apprentice, 8 PM, $60-$100
For tickets and more information from Lindenwood's Scheidegger Center for the Arts, click here.
Lindenwood University Productions and Music 
All My Sons: October 5-6 & Oct. 11-13, 7:30 PM, $10 General Admission, Black Box Theater
Mary Poppins:  November 1-3, 7:30 PM, $10-$18
Fall Music Series:  November 11-18, Free
A Christmas Carol: Nov. 29-Dec. 1, 7:30 PM, $10-$18
Winter Music Series:  December 4-6, Free
Our Town: February 21-23, 2019, 7:30 PM, $10-$18
The Rocky Horror Show:  March 27-29, 7:30 PM and March 30 2 PM & 7:30 PM, $15 General Admission, Black Box Theater
Click here for tickets and more information about Lindenwood University Productions and music.
The Family Arena
St. Charles City-County Library Book Fair:  August 3-5    
Fri. Noon-9 PM, Sat. 9 AM-7 PM, Sun. 10 am - 3 pm, Free Admission   
Over 250,000 hardbacks, paperbacks, sets, & records.  (Books range from 50 cents to $2)
R. Kelly – The Memory Lane Tour:  August 17  R&B Artist performing hits, 8 PM, $48-$98
Happy Together:  August 18 featuring The Turtles, Chuck Negron formerly of Three Dog Night, Gary Puckett & The Union Gap, The Association, Mark Lindsay former lead singer of Paul Revere & the Raiders, and The Cowsills, 7:30 PM, $43-$78
Meals for A Million Packing Event:  August 25-26
The Return of Rock of the '70s:  October 5 featuring an evening of St. Louis classics as April Wine, The Babys, Savoy Brown, and the Pat Travers Band share the stage for one night only!  7 PM, $40-$85
Smokey Robinson Live in Concert:  October 6    Legendary singer-songwriter, record producer, record executive, and co-founder of Motown Records, 7 PM, $60-$105
Jeanne Robertson – The Rocking Chair Tour:  October 12, 7 PM, $29-$69
Legends of Country:  October 20 featuring The Oak Ridge Boys, Tanya Tucker, & The Gatlin Brothers, 7 PM, $50-$80
Felix Cavaliere & Gene Cornish's Rascals:  November 2   Two legendary founders of The Rascals are teaming up for the first time in 5 years, 7:30 PM, $50-$88  
Brian Wilson:  November 15  Co-Founder of The Beach Boys, 7:30 PM, $55-$100
Patton Oswalt:  December 1   Comedian, Actor, & Writer, 8 PM, $40-$85 
For tickets and more information from the Family Arena's website, click here.
St. Charles Parks and Recreation 
Aquatic Facilities:  Celebrate 80 Years of Aquatics!   Check website for hours at Wapelhorst, Blanchette, & McNair (and end of the season closing)
Food Trucks in Frontier: Tuesdays, August 21 & October 16, 5-8 PM in Frontier Park 
Enjoy live music as you indulge in a variety of delicious food options available by different food truck vendors.  Bring your lawn chair or blanket (some trucks cash only).  
Click here for more information about St. Charles Parks.
New Town Events 
Movies at New Town Amphitheater:  August 3 & 31 at Dusk
Free Concert at New Town Amphitheater:  August 4 from 7- 10 PM – "Trixie Delight"  (Rock)
First Responders Open House at the Pool:  August 11 from Noon- 4 PM  – All St. Charles First Responders & their families are welcome.  DJ Tommy Tom will play your favorites & the Hot Dawg Cart will be available.  
Free Concert at New Town Amphitheater:  August 11 from 7- 10 PM - "Accolade Band" (Hits of the 70s, 80s, 90s, & today)
Movie & Drive-in:  August 17  Starts at Dusk -   Kids activities, drivable obstacle course, and movie
New Town Goddesses Event & Toga Party:  August 18   More Details TBD
Free Concert at New Town Amphitheater:  August 25 from 7- 10 PM  -- "Encore Band"  (Hits of yesterday & today)
Free Concert at New Town Amphitheater:  September 1 from 7-10 PM – "Orchard Fire"  (Fleetwood Mac Tribute and Rock of the 70s & 80s)
Free Concert at New Town Amphitheater:  September 2 from 7-10 PM – "Well Hungarians" (Country Hits & Southern Rock)
Free Concert at New Town Amphitheater:  September 8 from 7-10 PM – "Dogs of Society" (Elton John Tribute Band)
BBQ & Blues Festival:  Saturday, September 22 from Noon-10 PM at the NT Amphitheater
Click here for more information about events in New Town.
Historic Daniel Boone Home at Lindenwood Park
Traditional Music Day:  August 18, 11 AM- 3 PM  Learn about traditional music.  If you are a folk music lover, you'll love this free event.  Fiddlers and other musicians are on site performing selections from today and various historical eras.
Home School Day:  August 29, 10 AM- 3 PM    Reservations Recommended – tickets limited $5 each.  Homeschool students & their families can experience pioneer life by exploring hands-on programs and demonstrations throughout the pioneer village.  
For more information about events at the Historic Daniel Boone Home, click here.
First Missouri State Capitol State Historic Site
St. Charles History Talks  7-8 PM  (Lecture Series thru October sponsored by The Friends of the First MO State Capitol)
 August 16  "American Car and Foundry"  Have you ever wondered why Main Street dead ends at Clark Street?  Justin Watkins will present the history of the American Car and Foundry (AFC).  Along the way, we will meet some of the most famous employees and learn about ACF's role in the St. Charles economy from its days as St. Charles Car Company up to World War II.
September 20  "Slave Dwelling Project"  Join members of the Slave Dwelling Project and the African American Genealogical Society to learn about their work in restoring, preserving and studying extant slave dwellings in the United States.  Learn about identifying these properties and what you can do in your community to save them.
October 18 "St. Charles County's own Serial Killer"  In 1940, Wentzville housewife Emma Hepperman was arrested for killing her husband, Tony Hepperman. Her husband of just over a month ingested arsenic. The investigation that resulted showed that Emma had killed at least five of her seven husbands, plus some more family members, mostly from eating her "famous" potato soup. Join Victoria Cosner, site administrator, to learn more about this fascinating and frightening piece of St. Charles history.
For more information from the First Missouri State Capitol historic site, click here.
Wine Country/ Saint Charles County/ Other Events
St. Charles County Parks Family-Friendly Outdoor Movie Night – Enjoy a FREE movie (and popcorn) under the stars on August 10:  Youth Activity Park at 8:30 PM - Heavyweights. Click here for more information.   
O'Fallon Jammin' Concerts:  Tuesdays thru August 21 from 6:30pm-9pm at Civic Park  Enjoy a variety of music & food trucks each month at these free outdoor concerts  – August 7: Orr & Rolens Band; August 14: Platinum Rock Legends; August 21: Accolade    
Sunset Fridays @ 370 Lakeside Park:  Friday Night Free Concerts – 2 remaining for 2018 at 370 Lakeside Park in St. Peters – begin at 6:30 PM, bring lawn chairs.   August 3 – Serapis and August 10 – Oh Brother   
The Meadows at Lake St. Louis SummerFest Concert Series:  Enjoy great music from 6-8pm at these free events, complete with Food Trucks  -- August 23: Dance Floor Riot    Plus Visit the Farmers & Artist Market at the Meadow each Saturday from 8 AM 'til Noon until Nov. 3.   
O'Fallon Food Truck Frenzy:   Friday, August 3  *  5:30pm-8:30 PM at the O'Fallon Sports Park -  Enjoy a variety of food truck options and live music by the pop group, Next.
Mark Your Calendars:
Beale Street Market September 5th 5- 8 PM
Sip & Savor:  September 6 from 5-8pm at 370 Lakeside Park
Reenactment of St. Philippine's arrival on the St. Charles Riverfront:  September 7 from 9-11am in Frontier Park   (Celebrating 200 years)
St. Charles County Historical Society House Tour:  September 8 from 12-4pm, $20 Click here for Tickets   
Trails for Tails:  September 9 from 8:30am-Noon in Frontier Park
Mosaics Fine Art Festival:  September 14-16 along North Main Street – Fri. 4-9pm, Sat. 11am-9pm, Sun. 11am-5pm
St. Louis Renaissance Festival:  September 15 - October 14  (Saturdays & Sundays 10am-6pm) at Rotary Park-Wentzville
Augusta's Harvest Festival:  September 21-23
Saint Charles Oktoberfest:  September 28-30
Legends & Lanterns, a "Spirited" journey through Halloween History:  October 20-21 & 26-28.