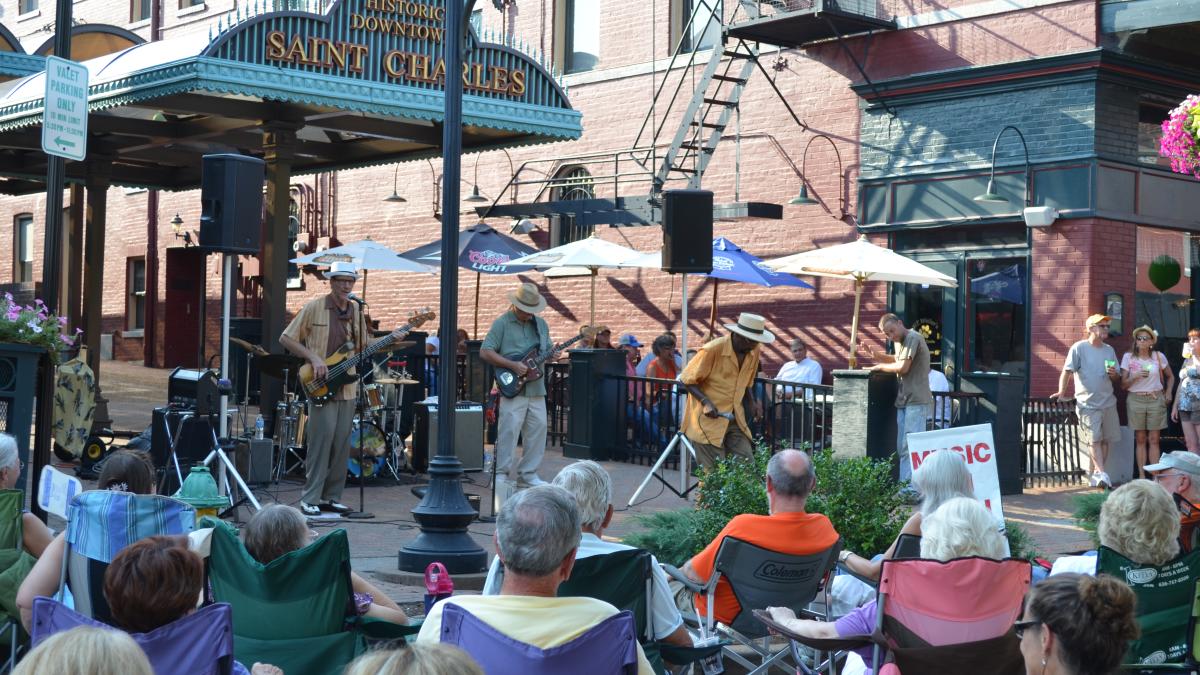 Family-friendly live music in St. Charles.
Music on Main is held on the 3rd Wednesday of every month. Set up your lawn chairs on North Main Street's beautiful bricks and enjoy food and drinks from local restaurants. With a variety of artists throughout this summer, the music at this event is always fun to hear. Next up, Vynal Tap - Wednesday, June 20 from 5:00 to 7:30 PM.
Beale Street Concert Series
The Streets of St. Charles is hosting their third annual Beale Street Concert Series. On the 2nd Wednesday of each month (May through October). Food and beverages are provided by the Streets of St. Charles restaurants. At this popular event, young and old gather together in the street with their lawn chairs to enjoy great music, food, drinks, and to dance like nobody's watching! Superjam, is up next, Wednesday, July 11, 6:00 to 8:00 PM - don't miss it.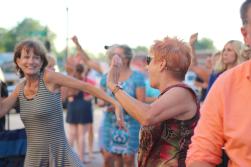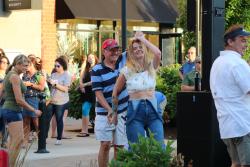 Every Thursday members you can lay out your picnic blankets or unfold your lawn chairs at the Jaycee stage in
Frontier Park - relax with a performance by the St. Charles Municipal Band. This band's roots go all the way back to the St. Charles Brass Band that began back in 1870. Today they play a mixture of tunes, old and new. Set aside an evening to sit between the sunset and the river and enjoy from this historically awesome band.
New Town hosts regular concerts in their beautiful outdoor amphitheater. Join the New Town community with your picnic blankets for great music, within walking distance of New Town's restaurants, shops, and treat stops.
Lakeside 370 Park hosts live music and food trucks every Friday at their beautiful outdoor amphitheater. Bring a lawn chair or sit in Lakeside Park's provided chairs, and listen to awesome music with a beautiful view of the sunset over the lake.
There's always a festival coming up in St. Charles, and what's a festival without great live music? Stay tuned to our calendar and social media to be aware of festivals as they come up. July 4th will bring Byrne and Kelly back to St. Charles for a performance during Riverfest! This Celtic Thunder duo comes to us from Ireland. Check out this article to find out more about Byrne and Kelly.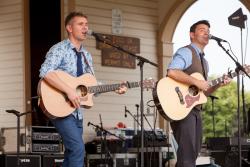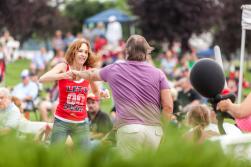 For more great opportunities for Live Music and Fun check out our event listings!