Whether you are looking to take a bit of the load off by outsourcing a few dishes, or for the solution to a fantastic Thanksgiving-for-a-few without sacrificing any of the Thanksgiving fixings, this list is for you! Thanksgiving is coming, and although Thanksgiving 2020 may look a little different, we are already meticulously planning our meals to get the most out of this holiday season- we all deserve some extra pie this year. Delicious pies, whole smoked turkeys, and entire Thanksgiving meals are available to-go at St. Charles restaurants, and might just be the secret to a perfect, low-stress Thanksgiving this year. Here are 9 restaurants offering Thanksgiving takeout in St. Charles.

Here's a holiday secret: smoked turkey is the best turkey. It's true, we don't make the rules. Whether you want a whole smoked turkey or smoked turkey breast, you can customize your Thanksgiving to-go so that it's just right for you with Sugarfire Smokehouse's Thanksgiving Catering. Dinner packs include Smoked Turkey Breast, Stuffing, Mashed potatoes, Green Bean Casserole, Gravy, Cranberry Chutney, Cornbread, AND Pumpkin Pie. What more could you need?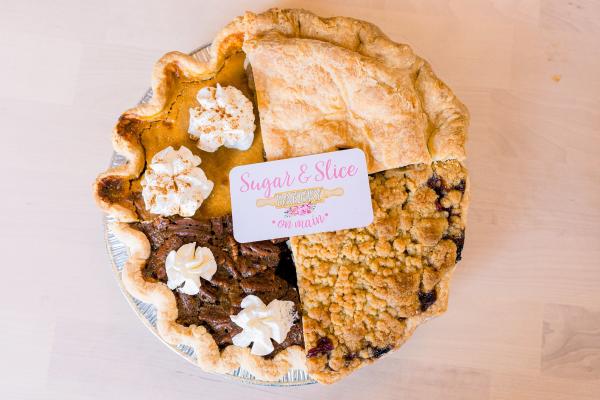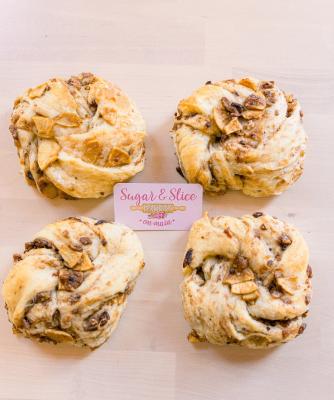 Photos by CMS Photography LLC

Sugar & Slice Bakery on Main has ALLLL the pies. It's true. if you can't pick one, just go with their genius "Pie Sampler," featuring Pumpkin Pie, Chocolate Pecan Pie, Apple Pecan Pie, AND Cherry Crumble. All in one. If you're not feeling the pie this year, try one of their other goodies, like these Apple Pecan Swedish Knots- easy to reheat and deliciously unique. Thanksgiving Pre-Orders at Sugar & Slice end November 19 at midnight, so you'd better get a move on while you still can!

Pre-Order Now

 

 

As we previously established, smoked turkey is definitely the way to go this Thanksgiving. Schlafly Bankside, located on Main Street, St. Charles is offering The perfect Thanksgiving bundle for a fuss-free holiday. The Bundle comes with their 12 Pack Patio pack of beer, 10lb House-Smoked Turkey Breast,  Side of Green Beans, and a Side of Mashed Potatoes & Gravy, and with helpful heating instructions to make things easier. 

Pre-Order by Friday, November 20

 


 

If anyone can do home-style cooking better than Grandma, it might be Cracker Barrel. Cracker Barrel offers a "Heat n' Serve Feast" every Thanksgiving, that "goes from oven to table in just 2 hours." Choose a meal size that fits your family, with country-style Thanksgiving staples like Turkey n' Dressing with Gravy, and a sampling of Sugar Cured Ham, Cranberry Relish, Macaroni n' Cheese, Mashed Potatoes, and more. Place your order ahead of time for pick up November 21st through 29th, while supplies last.

Order Now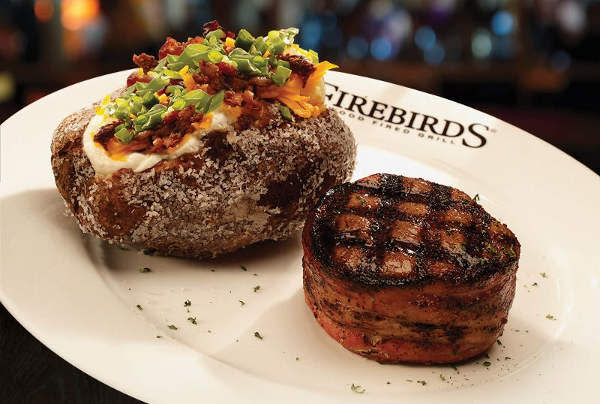 Firebirds Wood Fired Grill offers another scrumptious take and bake Thanksgiving Feast, with a few extra-special sides. Along with your staples including roasted sliced Turkey & Gravy, Parmesan Mashed Potatoes, cornbread dressing, cranberry sauce, and bread, Firebirds features some extra special sides. The feast includes a cheesy-yummy Broccoli-Cheddar Casserole, as well as Deviled Eggs, Spiced Pecan Green Beans, and (this one's the show-stopper) Pumpkin Cheesecake with Spiced Pecans & Salted Caramel Sauce. 

Photo from Pangea
6. Thanksgiving at Pangea
For a Thanksgiving meal that is made in St. Charles, check out Pangea World Fusion in New Town St. Charles. At Pangea your meal is totally customizable, choose from a multitude of sides including but not limited to Sweet Potato Casserole, Mixed Roasted Vegetables, Cheddar-Herb Buttermilk Biscuits, and traditional stuffing with apple and sage. To complete your meal, Pangea also serves a selection of delectable desserts, including the oh-so-yummy Cinnamon Apple Cake with a Brown Sugar Glaze. 
Pre-Order by November 20th at 9:00 PM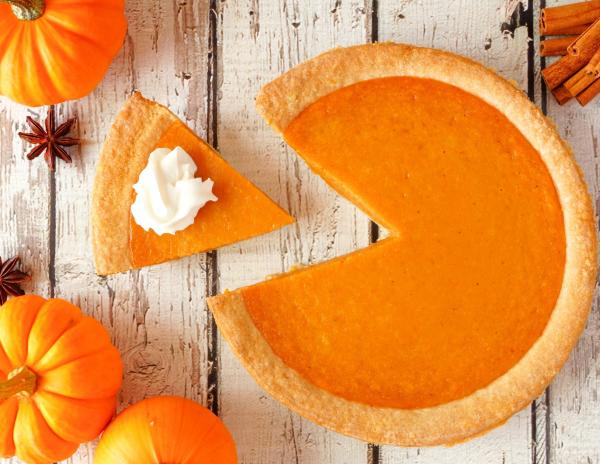 What's the most important menu item on Thanksgiving Day? For us, it's definitely the pie. This year let Bike Stop Cafe take care of it! Order your pumpkin pie online from Bike Stop Cafe, made with love just for you. Bike Stop even has a vegan option for you or your family members, so that nobody at Thanksgiving misses out on dessert.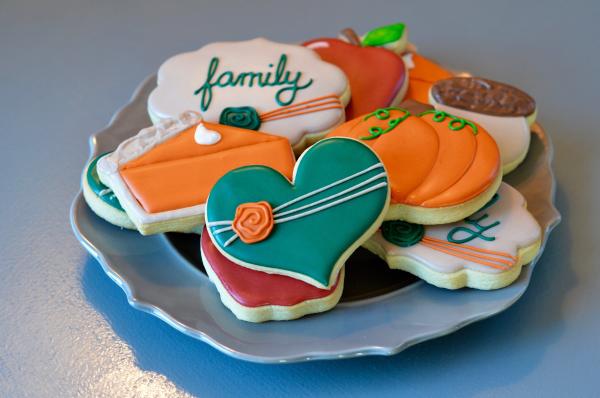 For treats that will taste good AND look absolutely gorgeous on your Thanksgiving table, order goodies for curbside pickup at SugarBot Sweet Shop. Owner Jackie Huebbe is a pro at creating cookies that look almost too good to eat (keyword, ALMOST), and SugarBot's famous, uber-buttery Rose Rolls make a magical addition to any holiday table.
Pre-Order for pickup November 14th, 21st, and 25th only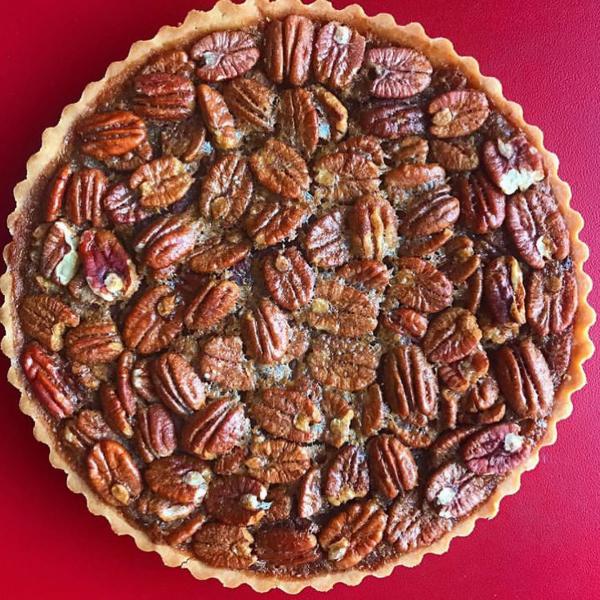 Photo from Sucrose Bakery

Pies, tarts, cake, and more, Sucrose Bakery on Fifth Street is dependably spectacular at all things dessert-related. Agi & Aaron Groff are the talented duo behind the innovative desserts at Sucrose Bakery, and the German and European influence in their recipes makes these treats a little extra special. Place your order at Sucrose by Saturday, November 21st to make sure that everything is ready for your Thanksgiving meal!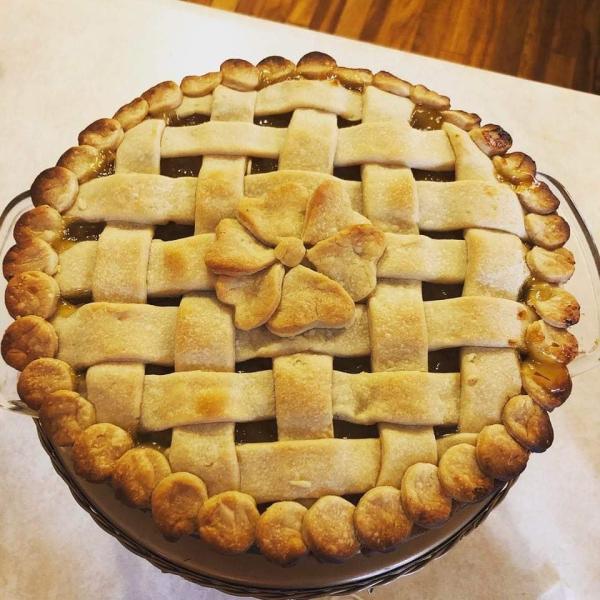 Reserve scratch-made pies for the holidays. These homey pies make the perfect conclusion to Thanksgiving dinner! Orders must be placed by Sunday, November 22nd, and picked up by Wednesday, November 25th at 3 pm. Limited quantities will be available.
For more information about St. Charles Restaurants,
visit our restaurant page.