FREE Activities
During Legends & Lanterns, you have the opportunity to interact with a Plethora of Playful Paranormal Poltergeists from parts unknown. These infamous witches, villains, and spirits from lore and legend have unleashed the magic of their enchanted lanterns in order to travel from regions beyond to bring you the eeriest entertainment anywhere from Tombstone to Transylvania!
We hope that you will celebrate with us, enjoy a few new characters, events, and attractions that will highlight our "spirited" journey through Halloween history as a way to honor classic works as well as recognize the imaginative individuals who have used the creative potential of the written word to inspire a bump in the night AND send shivers down our spines.
When you visit with one of our Legends, be sure to get your Passport stamped. Each of our ghostly guests has their own special mark, so you'll never forget your enchanted encounter!
Pick-up your official Legends & Lanterns Passport at the Tourism Center (230 South Main Street), Scarecrow Glen, Hayride Locations, or Plaza del Dia de los Muertos.
Ghost Stories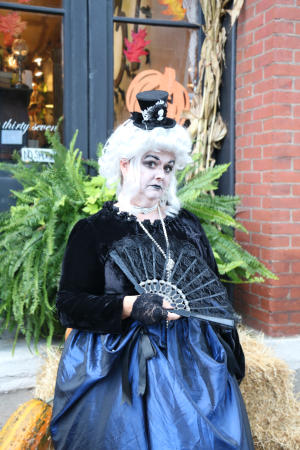 Ghost Stories at the First State Capitol
Join us as the Missouri First State Capitol provides the eerie backdrop as two ghostly residents of St. Charles' past materialize to act as your master storytellers, utilizing audience participation (and a few surprises) as they share a treasury of spooky short stories and ghost tales that will send a shiver down your spine (and occasionally put a smile on your face).
Visitor Tip: Be advised that seating within the First State Capitol is extremely limited. Plan to arrive early to secure a spot!
Storytimes:
•  October 12 at Noon, 1:00 PM, 2:30 PM, 3:30 PM
•  October 13 at 1:00 PM, 2:30 PM, 3:30 PM
•  October 19 at Noon, 1:00 PM, 2:30 PM, 3:30 PM
•  October 20 at 1:00 PM, 2:30 PM, 3:30 PM
•  October 25 at 6:00 PM, 7:00 PM
•  October 26 at 1:00 PM, 2:00 PM, 3:00 PM, 4:30 PM, 6:00 PM, 7:00 PM
•  October 27 at 1:00 PM, 2:30 PM, 3:30 PM
Hayrides
Hop aboard and enjoy a leisurely jaunt on an old-fashioned horse-drawn hay wagon. The Missouri River and historic architecture of Main Street set the scene as a Halloween History Guide provides a spooky (but fun) overview of the traditions and folklore of this holiday that has been tricking and treating people for generations. You'll never look at Main Street quite the same way again, as your guide shares insightful anecdotes and trivia about sites or mischief, villainy, and the paranormal that have shaped the legacy of the historic district.
Visitor Tip
These one-way hayrides will run continuously during festival hours. They are free, with no tickets required.
 
Departure Locations:
900 Block of South Main
200 Block of North Main
Plaza del Dia de los Muertos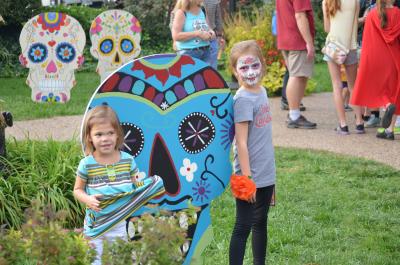 Bienvenidos amigos! Explore the vibrant and colorful traditions of the Mexican Day of the Dead at Plaza del Dia de los Muertos. Enjoy learning about the rich heritage and customs of the holiday from La Catrina, the spirit of Dia de los Muertos. Create your own unique decor at our craft station, and even get a festival Day of the Dead make-over from one of our professional face painters!
Scarecrow Glen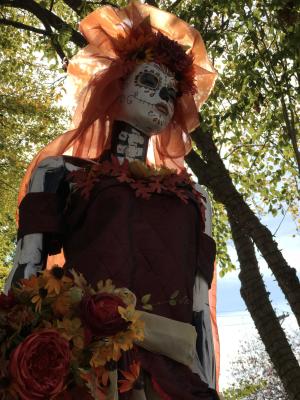 Thanks to Legends & Lanterns, it seems that Main Street has come down with a case of "Hay Fever". Stroll over to the 400 block of South Main where Kister Park has been transformed into Scarecrow Glen. Explore and enjoy as every corner of the park is populated with dozens of cheerful straw figures. 
Whether traditional or imaginative, whimsical or avant garde, the scarecrows you see here have all come from the creative minds of merchants, organizations, and entities from throughout the Saint Charles area.
Be sure to find the ballot box, for the chance to vote for your favorite in our very own "staw" poll!
Writer's Block
Be sure to stop by Writer's Block at the OPO Plaza, the symbolic centerpiece of the Legends & Lanterns celebration of classic gothic literature, and the creative minds that have sent a shiver down our spines. It is here that you will be able to brainstorm story ideas with the biggest superstars of the horror genre: Edgar Allan Poe, Mary Shelley, and the Brothers Grimm. Perhaps you will be inspired enough to pick up a quill pen and try your hand at writing your own suspenseful poem or short story. If you so choose, you can even post your masterpiece on our "POE" tree, where you can enjoy reading the clever musings left behind by other visitors.
You won't want to miss Writer's Block: Unbound! A zany fast-paced show that takes you through an abbreviated history of your favorite frightful books and fairy tales. From Bram Stoker to Stephen King, no monster myth is safe, as Poe, Shelley, and the Grimm Brothers irreverently skewer the classics during this light-hearted celebration of the creativity of the human imagination and written word.
Writer's Block Showtimes:
October 12 (12:30pm, 3pm)
October 13 (1:30pm, 3pm)
October 19 (12:30pm, 3pm)
October 20 (1:30pm, 3pm)
October 25 (6:30pm)
October 26 (12:30pm, 3pm, 6:30pm)
October 27 (1:30pm, 3pm)
"Eerie Jamboree"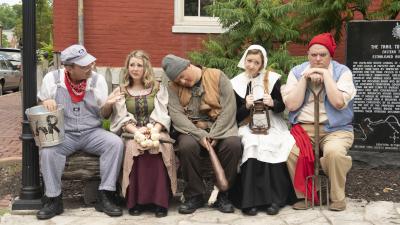 It's impossible to be angry when the haunting melodies of the Halloween season are brought to life by everyone's favorite musical mob. Join the Angry Villagers on the steps of the Gazebo in Scarecrow Glen (400 block of South Main) as they present a creepy chorale of spellbinding tunes for a toe-tappin', hand-clappin', good time (no pitchfork required).
Concert Times:
October 12 (1pm, 4pm)
October 13 (2pm)
 October 19 (1pm, 4pm)
 October 20 (2pm)
 October 25 (6pm)
 October 26 (12pm, 2:30pm, 5pm)
 October 27 (2pm)
The Katy Depot - Frontier Park
Victorian Mourning Exhibit
Have you ever wondered why we wear black to funerals? Or why our homes have "living" rooms? Or what the symbols and markings on old tombstones mean?
Find the answers to these questions and more when you journey to Frontier Park as the historic Katy Deport comes to "life" with Morbid Curiosity: Mourning Traditions of the Victorian Age, an interactive exhibit that utilizes over 60 authentic artifacts to illustrate how Victorians revolutionized the bereavement process and turned grief into an art form.
Tinseltown Terror
It's thrilling! It's shocking! And it's coming to a screen near you! Transport yourself back to the by-gone era of drive-in theatres when you visit Tinseltown Terror: A Salute to the Golden Age Of Monster Movies. Relive the nostalgia with clips from your favorite monster classics and SciFi b-movies of the 1930s-1950s. Grab some popcorn and enjoy as these vintage monsters, mutants, and maniacs make their return to the big screen.
Dorian Gray's Portrait Emporium
Curious visitors, have you ever wondered the secret to staying young forever? Look no further! Dorian Gray (the star of Oscar Wilde's 1890 book, The Picture of Dorian Gray), knows the answer and has set up shop here in Saint Charles. Enter his Portrait Emporium (located within the Katy Depot), and see first hand, Mr. Gray's infamous portrait. For a nominal fee, get your picture taken and be astonished as you glance at the final product and see your own self-portrait "age" before your very eyes! To witness this photographic fountain of youth and take home a one-of-a-kind Halloween souvenir you will cherish for years to come, make sure to visit Dorian Gray's Portrait Emporium...it's an experience that never gets old!
Personal morphing portraits: $15 each
Daily Monster Banishing Ceremony
Hoisting their pitchforks, tar and feathers, and garlic, our bumbling band of Angry Villagers will stop at nothing to banish witches and poltergeists from the streets of Saint Charles. Join them at the end of each festival day as they round up all of our notorious villains at the gazebo in Scarecrow Glen (400 block of South Main) for an epic final confrontation. Will the Legends of Halloween be victorious? Or will the Angry Villagers get their wish and successfully chase away our ghoulish guests? You will have to find out!
Banishing ceremonies take place fifteen minutes prior to the end of each festival day.
MACABRE MERCHANDISE
Looking for a unique souvenir to commemorate your visit to Legends & Lanterns? Stop by the Visitors Center (230 South Main Street) for a wide array of festival apparel and mementos that will help you showcase your Legends & Lanterns pride in style, and help you keep the spirit of Halloween going all year long.
SCAREDY CAT SCAVENGER HUNT
Meet Jekyll (the festival's unofficial feline mascot). Jekyll likes to "hyde" throughout the historic district during Legends & Lanterns. A clue will be posted each festival day on the official Legends & Lanterns Facebook page, to help you locate the whereabouts of Jekyll's "hyding" spot. Take a picture with our frightened feline and show it to one of the volunteers at the Visitors Center (230 South Main Street) in exchange for a small prize!
Dont' forget to share your photos on social media!
Use #legendsandlanterns
2019 FESTIVAL HOURS

Sat, 10/12: 11am to 6pm

Sun, 10/13: Noon to 5pm

Sat, 10/19: 11am to 6pm

Sun, 10/20: Noon to 5pm

Fri, 10/25: 5pm to 8pm

Sat, 10/26: 11am to 8pm

Sun, 10/27: Noon to 5pm