A first timer's experience at
Climb So iLL at The Steel Shop has been in the works for more than three years, and St. Charles has been buzzing with the news ever since. Climbing has become a popular activity among all ages looking to find community and push the limits of their abilities, and the latest location of St. Louis climbing gym Climb So iLL is a world-class facility, with some of the best climbing in the country. It was HOT out when I visited, but luckily the climbing at The Steel Shop is entirely indoors, making it the perfect all-weather activity.
Climb So iLL Reveal. Photography and video provided by Climb So iLL.
I love hiking and biking and have always been more of an endurance athlete than a power athlete (translation: high school sports were not my thing), so when I heard the news about Climb So iLL my first thought was that with its focus on strength building and endurance, climbing might be the perfect sport for me. My next was that I couldn't stand to wait for the Gym to open. The Steel Shop is finally here, and I.Am.Ready.For.It.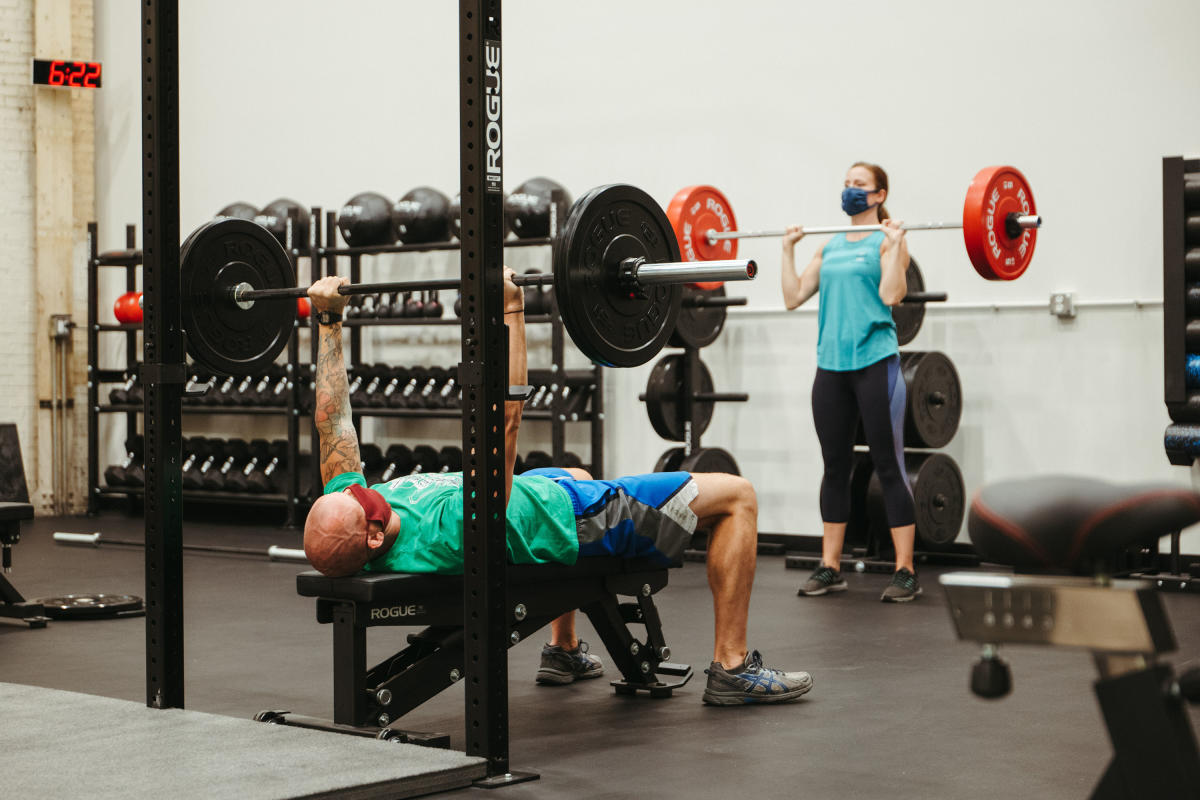 Climb So iLL also features a fitness area with training equipment. Strength and skill classes and yoga classes are free to members.
Just inside the front door, you'll find iPads in case you haven't already filled out your waiver online. It only takes a minute or so, but since I'd done mine already I breezed on through, heading into the Pro Shop. The orange walls of the Pro Shop are filled with colorful climbing and athletic gear from Climb So iLL's sister company, So iLL Holds. Beautiful bright red climbing shoes caught my eye as I headed to meet David Chancellor, owner and Community Director at Climb So iLL.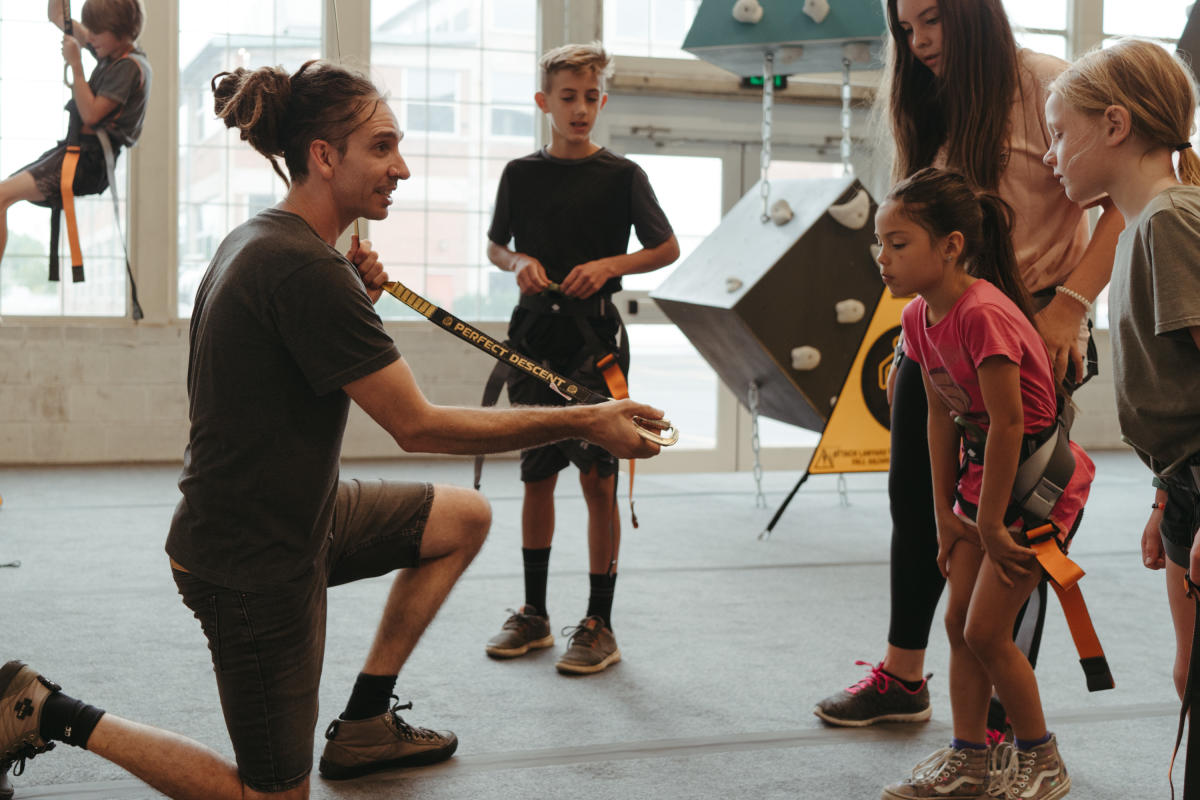 Dave Chancellor, Climb So iLL Owner/Community Director 
Due to Covid-19, everyone in the gym is currently required to wear masks, but I can tell you from previous meetings with this guy that Dave greets everyone with a huge welcoming grin. A tall guy with dreads and that literally-everyone-loves-this-guy demeanor, Dave is exactly who you'd expect to head up this extraordinary facility. He showed me to a wall of rental climbing shoes, and my climbing journey began as I tried them on, settling on a pair a half-size larger than my usual shoe size. Dave also provided me with a harness (much appreciated) and chalk bag.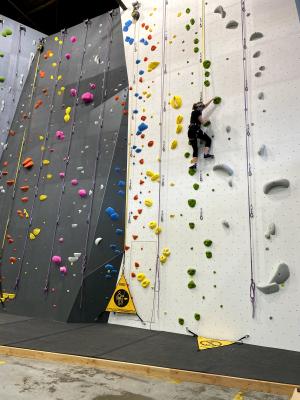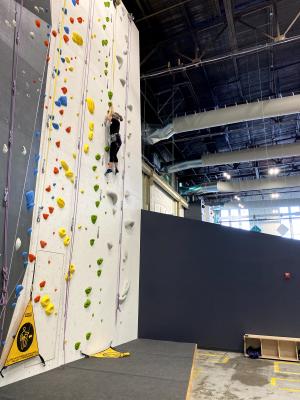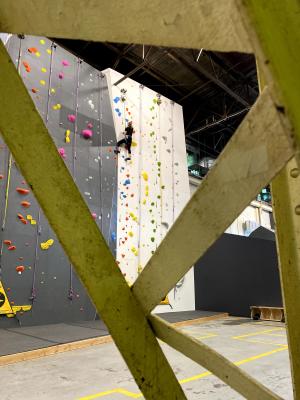 My first few climbs- all photos of me courtesy of David Chancellor.
The harness is fairly easy to figure out. Newbies like me will be happy to hear that there will always be a staff member there to walk you through it. It basically pulls on like a pair of pants, tightening with some simple straps. I buckled the chalk bag around my waist and was ready to go. You must be belay-certified in order to rope belay at Climb So iLL, so first-timers will want to begin by using one of Climb So iLL's many auto-belays, spread throughout the facility. This device slowly lowers you to the ground when you release the wall, allowing you to climb without a partner, as well as without any climbing experience.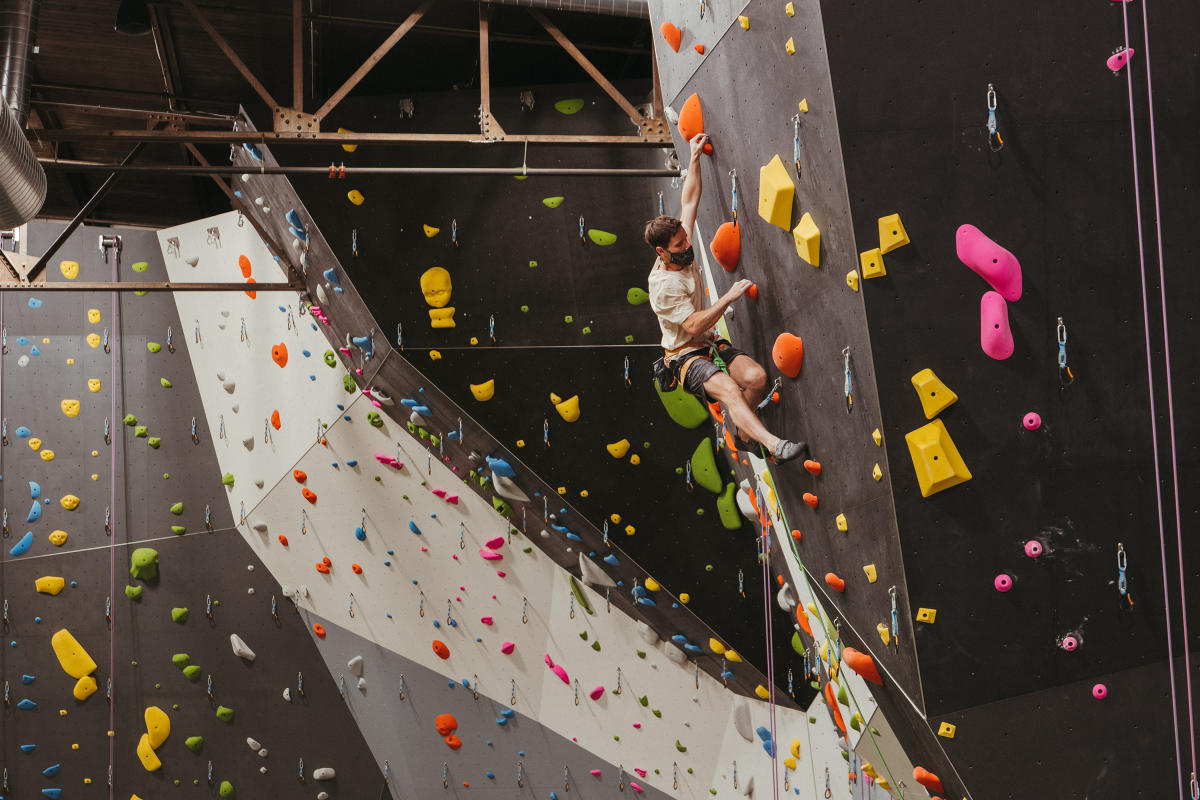 Climb So iLL is huge! Exiting the pro shop, you will be amazed at the sheer size of the space in front of you. Walls of colorful climbing holds scale the sides of a huge former steel shop, and climbers crawl across them. Ropes suspend from the ceiling all around as well. This place is more than a gym- it's an interactive art piece! Any photo you take in here is going to look awesome, guaranteed. 
New climbers may take Climbing Classes to learn how to climb, boulder, lead climb, and lead belay. Learn More.
Like I said, I'm not a climber. As much as I love staying active I don't consider myself very "sporty," and post-quarantine I am definitely not in shape. Despite my inexperience, my initial instructions from Dave were simple. Clip yourself into the auto-belay one carabiner at a time (there are two so that you don't accidentally let go), and then go for it. "It's as easy as climbing a ladder," he said. Looking up I can't say I believed him, but I went for it anyway. Believe it or not, he was telling the truth! The routes are separated by color and numbered by difficulty, and climbing the beginner routes is totally doable. During your first visit, a staff member will give you a brief orientation, explaining the different areas of the gym and how to get started, including which routes are best for you.
Gravity Lab at Climb So iLL
The best thing about Climb So iLL is that no matter your experience level, you can clip into an auto belay and start climbing pretty much as soon as you get there. Your first visit you may choose to schedule a time slot in The Gravity Lab, great for beginners, but there are several routes throughout the facility that you should be able to do. After you've been a couple of times and decided you are in love with it, you can always take a class that covers the fundamentals of climbing with a qualified instructor.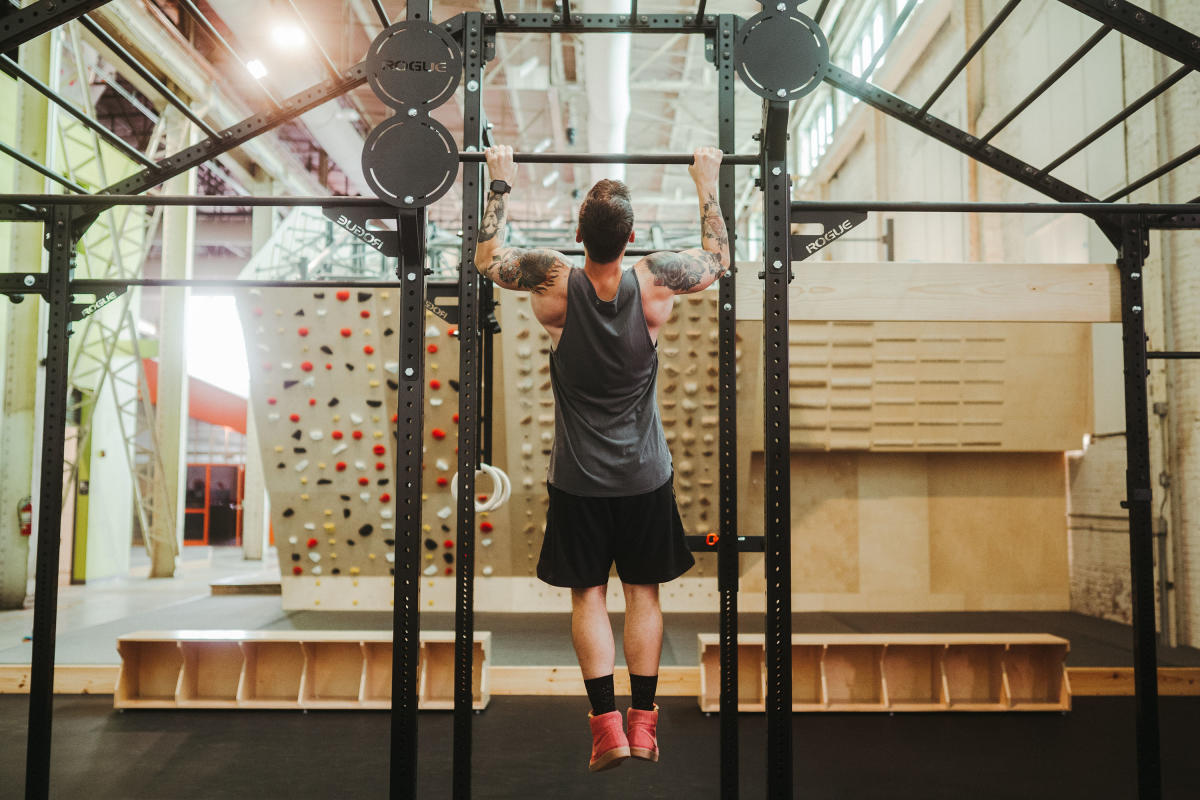 Monkey Rig in the fitness area at Climb So iLL
One thing I didn't mention is that typically I am terrified of heights. Can't do 'em. Don't like 'em. Don't do 'em. But, especially since attached to the auto-belay it is theoretically impossible to fall, I was willing to give this a shot. After two or three times of climbing about six or seven feet and then letting the rope lower me gently to the ground, my body trusted it as much as my mind did and I ventured further up.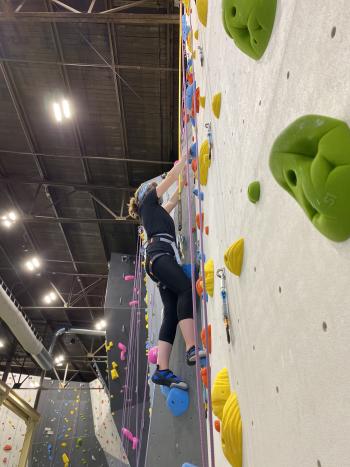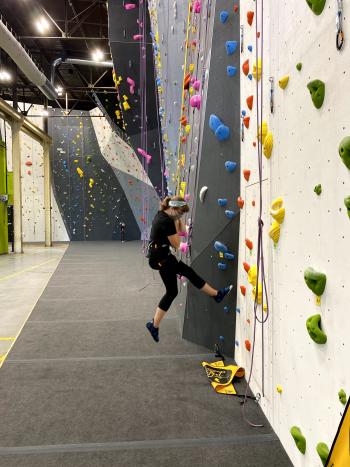 Left: Navigating the climbing wall; Right: Descending via auto-belay
Searching for holds is like figuring out a puzzle. Left foot there… okay, my knee is bent so if I push up on this foot then I can reach that hold… Got it. When I hesitated Dave coached me through the climb, calling out where to place my feet. I surprised myself by continuing to climb the wall instead of stopping, and it really, truly was not that difficult! Just tricky enough to be invigorating, not nearly enough to be discouraging. "I feel like I shouldn't be able to do this!" I shouted. I reached the top and looked down. Not the best idea, but I was attached to the auto-belay so I could relax a little, and the view of the gym from up there is pretty awesome. To get down, you simply let go of the wall and sit back. Then push off the wall with your feet as you slowly descend, walking down it until you touch down to the ground. Easy! I even look faintly graceful in the pictures.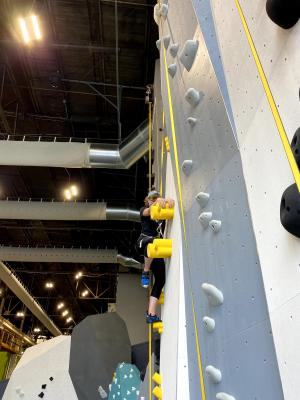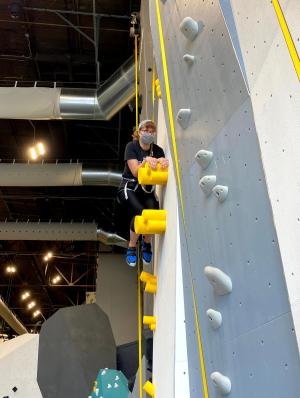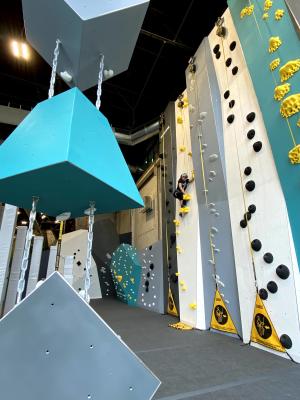 Struggling... but powering through and learning... in the Gravity Lab.
I tried several different walls while I was there, including some in the Gravity Lab. This space is designed to be fun for beginners, pros, young, and old, and can be rented for birthday parties, team-building events, bachelor(ette) parties, and more! A few other climbers joined us in the Gravity Lab and called out support as I struggled with a wall that was offering a bit more of a challenge. To my surprise, I did not "fall" during the entire duration of my visit.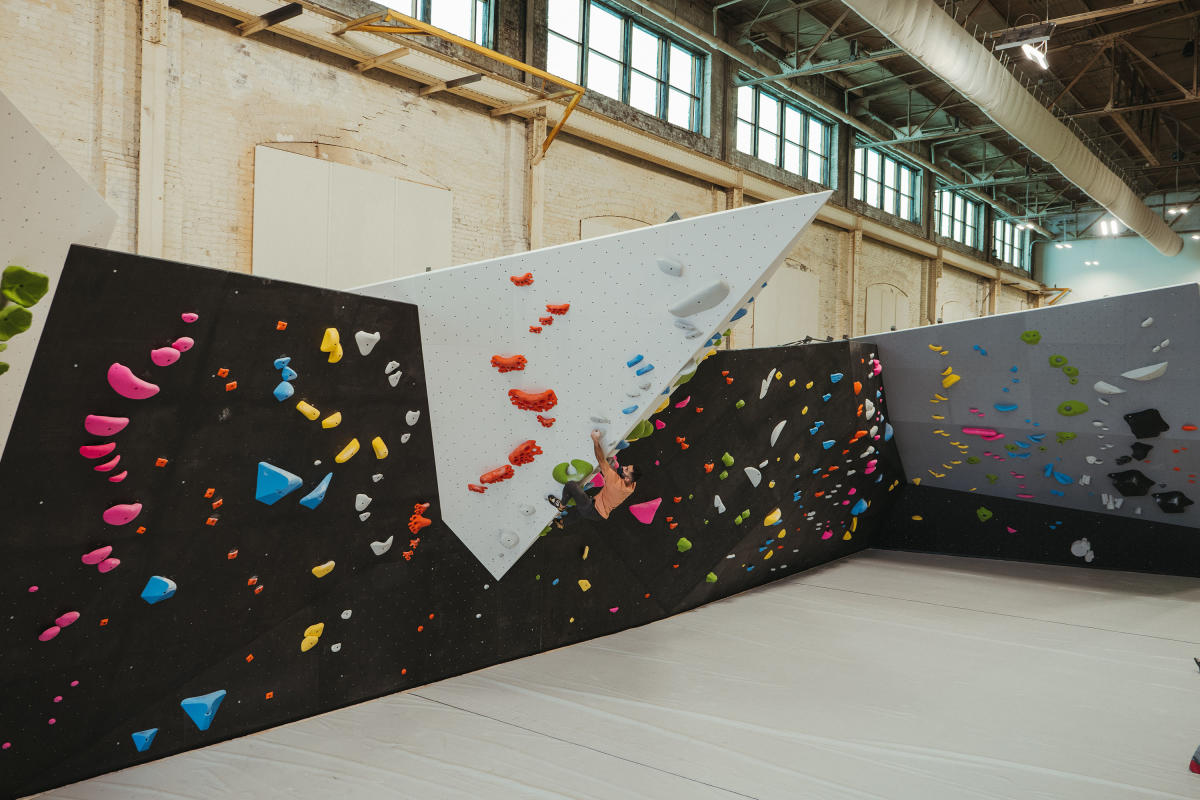 Bouldering Wall
On your first visit to Climb So iLL, expect to surprise yourself. Climbing challenges you to rethink what you and your body can do, as well as to trust a community of strangers to support and encourage you as you literally climb to new heights! Due to Covid-19 restrictions, you currently required to reserve a time slot prior to your visit. Climb So iLL in St. Louis has a reputation for its community atmosphere, bringing people together to experience new things and challenge one another. Many lifelong friendships have been made at the Climb So iLL, and some have even led to romances. Dave hopes that opening The Steel Shop in St. Charles will bring that same sense of community here. Whether you are looking for a new way to exercise, a new experience for yourself and your family, or a new community, you will find it with Climb So iLL at The Steel Shop. 
Check out Climb So iLL's First Visit page to get climbing!