Historic Discovery in Saint Charles, Missouri
By Michael Cochran
Buried in books about history is a fine way to learn about the past, but I wanted to show my daughter, Laura, a place where history is very much alive. Saint Charles, a charming community nestled along the Missouri River, northwest of St. Louis, would provide an education and a good time.
We hopped on a trip arranged by a travel Meetup group I'm a part of—they'd organized a tour through the historic downtown, led by a costumed tour guide. On the bus into town, Laura and I chatted about the classes she was taking at college, including specific events and their lesser-known backgrounds—she got her passion for history from her old man, after all.
Exiting I-70 and making our way through the modern parts of the city, the franchise restaurants and chain stores gave the familiar feel of many thriving cities until the sudden staccato of brick pavement under our tires signaled a leap back in time. Stepping out into a vibrant spring morning, we found ourselves in a different, much older world. The world of historic Saint Charles.
Enter the 19th century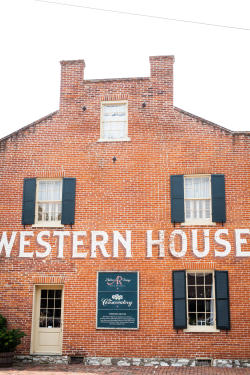 The Meetup had arranged time for the dozen or so of us to explore before the tour, so Laura and I wandered as we pleased. Laura was in heaven, taking pictures and pointing out charismatic architectural details on the brick homes lining Main Street, including windows with porticoes and classic trim colors. Many of the beautifully restored buildings date back to the 1820s.
Friendly staff at the visitor's center, on Main Street by Frontier Park, provided materials to help us better appreciate what we were about to see on the guided tour, such as the house where George and Mary Sibley lived prior to establishing the Linden Wood School for girls (now Lindenwood University) in 1827, and the story of the Saint Charles Car Company, a railcar manufacturing operation that covered 20 acres and employed more than 1,000 people during its heyday. Part of that company's original foundry now serves as the Foundry Art Centre, an art museum featuring beautiful exhibits, special events and artists' studios.
Shrine of St. Rose Philippine Duchesne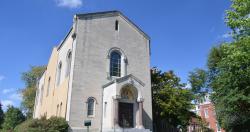 With a bit more time to spare before the guided tour, Laura and I made our way north to the Shrine of Saint Rose Philippine Duchesne, built as a lasting tribute and resting place of the French missionary who brought formalized education to the Missouri frontier. The school she founded in Saint Charles in 1818 was the first free school west of the Mississippi and the foundation of education of any sort for innumerable pioneers and American Indians. The exterior of the tall, grey chapel invited us up the front stairs and within. The site's history was not lost on Laura, who mentioned that she found Saint Rose's dedication to education honorable. A good statement to hear from my own student.
A Walker Through Time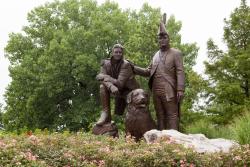 We knew we arrived at the right spot for the tour when we saw Mary, the costumed guide who would be our escort on a walking tour of historic Main Street. She was dressed in the style of an early 1800s pioneer woman—from ankle-high fringed moccasins to ruffled mob cap. As the rest of the Meetup group reunited and the tour began, Mary's cheerful personality and command of local history were an immediate hit.
Our starting point was near a colossal 15-foot tall sculpture depicting Meriwether Lewis, William Clark and Seaman, their gigantic Newfoundland dog. This impressive bronze monument sits beside the Missouri River to commemorate Saint Charles' historic connection to Lewis & Clark's great undertaking, for it was at this very place, in May 1804, that Lewis and Clark met to complete their crew, gather supplies and finalize plans for exploring the vast Louisiana Purchase territory.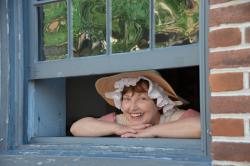 A simple entry in William Clark's journal records the official date of their embarkation: "May 21, 1804. Set out from Saint Charles at three o'clock after getting every matter arranged." Fine, but I had to ask, why depart so late in the day? Mary had an amusing explanation. Upon their arrival in the small river settlement, Lewis and Clark were feted like rock stars every night, with the biggest bash of all the night before departure. "Marie Duquette had come from Europe, and she knew how to throw a party," Mary told us. "On the eve of launching their grand adventure, the men got drunk and partied until 5 a.m. It was all they could do to get their boats in the water by mid-afternoon, and they only went a short distance upstream before stopping for the day to 'take their rest.'" So now we know. Lewis and Clark started their epic journey with hangovers!
Mary led us up from the river to where the Boonslick Trail originated. Daniel Boone first blazed this trail following old American Indian paths, creating the first defined link to the Oregon, Sante Fe and California Trails farther west. A superstar of his time, Boone spent the last 20 years of his life in Saint Charles, rising to prominence as a civil judge who so disliked being inside that he held court outdoors under the branches of what he called the Judgment Tree.
Continuing up Main Street, Mary pointed out the varieties of French and German architecture, regaling us with factual anecdotes about the town's early citizens, including Louis Blanchette, a French-Canadian fur trader who in 1769 established the settlement that eventually became Saint Charles. Truly, every building and every patch of open ground along the 240-year-old street has a story to tell.
First Capitol of Missouri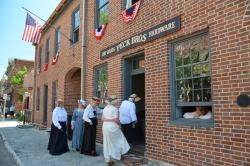 Our 50-minute walk concluded at the First Capitol of Missouri. The Federal-style brick building served as the first state capitol after Missouri's admittance to the Union. As Mary explained, it was the offer of free rent from the Peck brothers that persuaded Missouri's first governor, Alexander McNair, to sign a bill making Saint Charles the capital city until the new state's permanent capitol was completed in Jefferson City. From June 1821 through October 1826, heated debates over state's rights, slavery and taxation rang through the rooms on the second floor, while raucous bartering went on downstairs in the Peck Bros. Dry Goods & Hardware store. Outside, crowds would gather to hear the town crier shout out the latest news about politics, war and topics of general interest. Out of the noisy seeds planted in Saint Charles, rose the great state of Missouri.
Lewis & Clark Boathouse and Nature Center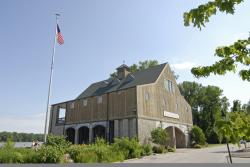 Bidding Mary a fond adieu, the group continued to a site we wanted to explore more: the Lewis & Clark Boathouse and Nature Center. We weren't disappointed. The American Indian artifacts, National Geographic video presentation, and other exhibits deepened our appreciation for what those intrepid explorers and their crew accomplished under unimaginably adverse conditions. We were especially impressed by the indoors-meets-outdoors interior, complete with rocks and plants and a pond that a couple children at the Lewis & Clark Boathouse and Nature Center couldn't resist. One highlight will stick with me the next time I watch a History Channel special on the explorers: Seeing the modest size of their keelboat's full-scale replica, built from Lewis's original plans using late-18th century tools, brought home just how small and vulnerable they were compared to the magnitude of challenges they faced.
Back to the Future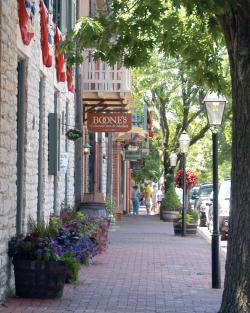 Relaxing in one of Main Street's sidewalk patios prior to boarding the bus and heading home, Laura and I watched the passing parade of ambling older folks, youngsters bouncing with energy, couples arm in arm, groups of friends talking and laughing, shoppers with their purchases mixing with local people going about their business, and it suddenly hit me.
"Take these same people doing these same things, put them in 19th century clothing and we'd be back in the 1800s waiting for the town crier's next report," I told Laura.
Historic Saint Charles is the real deal, where past and present go hand in hand to meet the future.