Fishing in St. Charles, Missouri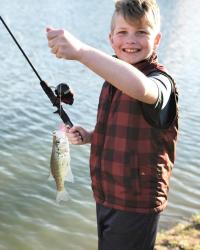 Fishing is a favorite pastime in St. Charles... and we have a lot of it!  Bring your friends and family for quality time at our local parks while enjoying bluegill, bass, and catfish fishing, all of which are stocked in St. Charles County lakes. Sit back and relax with an evening of pond fishing in St. Charles at one of our beautiful St. Charles City parks. The Mississippi and Missouri River are also available for fishing, accessible via boat launches throughout the St. Charles area.
---
Nearly 7000 acres of forests, woodlands, and lakes. That's The August A. Busch Memorial Conservation Area. Enjoy fishing, hunting, and trails at this beloved nature reserve, and know that these lakes are stocked with enough Trout, Catfish, Crappie, Black Bass, White Bass, and Sunfish to make your visit time well spent.
Complete your fishing trip with a stay at one of St. Charles's many accommodations and campgrounds.