Step through the door of history and breathe in luxury when you visit Camp Mill Pond. The deep color and vibrant modern energy that fills this historic cabin creates the most gorgeous setting for a stay in St. Charles. Nestled in the heart of Frenchtown, and just a ½ mile walk from Main Street, there are a multitude of coffee shops, shopping experiences, and events just within reach.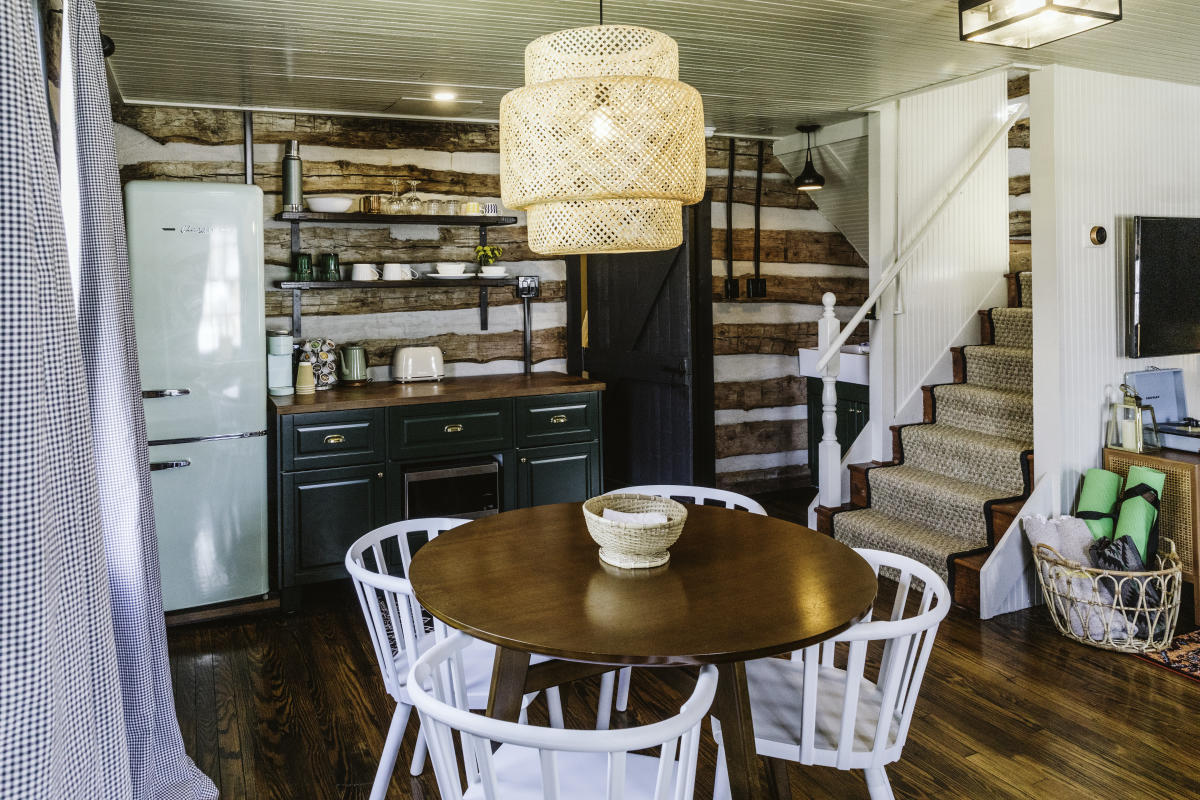 The historic cabin, transformed into Camp Mill Pond by James and Meghan Reed, once stood miles away from Historic Frenchtown. Constructed around 1835 by a couple that immigrated from Germany, the cabin was originally located in St. Peters, Missouri.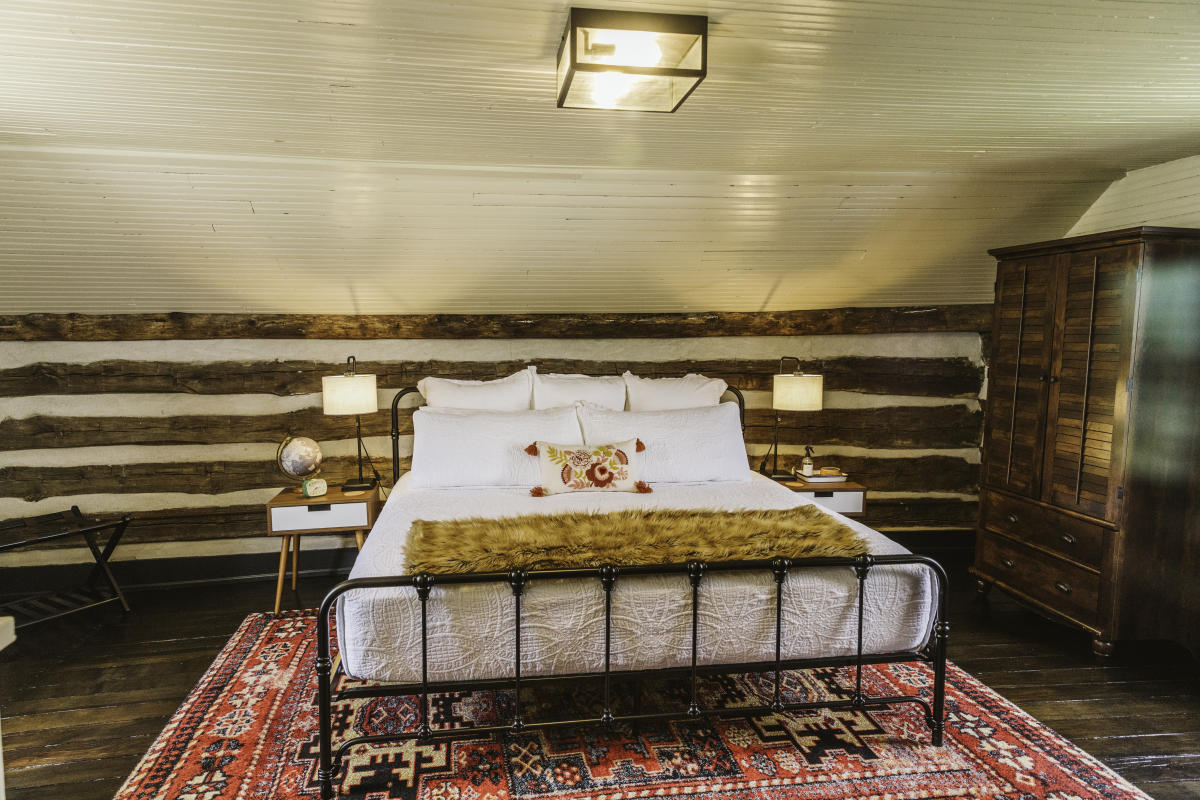 In the 1980s, Glen Bishop, a St. Charles local with a well-known passion for history, had the cabin meticulously moved, log by log, to its current location. The cabin was eventually turned into a bed & breakfast. When the Reeds purchased the cabin, and the adjacent home, in 2020 they began their own cosmetic updates.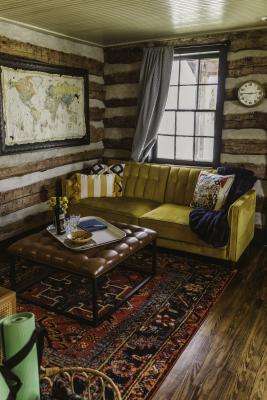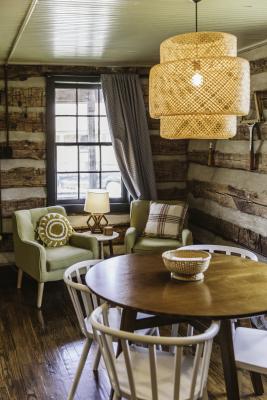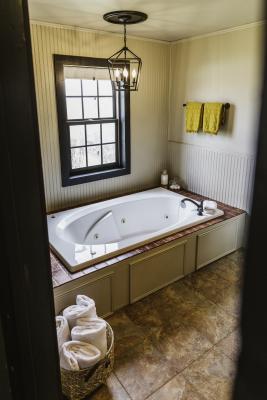 Inspired by vintage glamping experiences romanticized in beloved film and television like the original Parent Trap and Marvelous Mrs. Maisel, Meghan set out to create a glamorous experience, with a sense of humor and a tactile coziness. The textures and colors: bright reds, yellows, and deep greens, help create the Camp Mill Pond experience and frame memories that last a lifetime.
REVIEWS
"Camp Mill Pond is a total gem! The space is stylish, cool, and tasteful. There were so many little touches from snacks to robes, to eye masks, everything was thoughtful and lovely. It was really clean but didn't smell like horrible toxic cleaning supplies which I really appreciate. Honestly, the pictures are great but they don't do this special place justice. The bedroom upstairs is incredibly spacious as is the bathroom. Just down the street is Frenchtown, which had a cute coffee place we went to and Old St. Charles which is full of all kinds of restaurants and shops is a quick drive or about a 15min walk which we did one evening and it was really lovely. Overall this is one of the more special and unique feeling places we've stayed and Meghan was a great communicator!"
"What a gorgeous place to stay! Meghan's place is kitschy and playful, while also 100% high-end and lovely. Every design detail has been thought of throughout this historic cabin. So close to St. Charles's Main St. and worlds away from most typical (read: boring) Airbnb stays, this is a place I want to return to again and again. Even better than the photos! Add to that, Meghan is nearby and a great communicator. Couldn't have asked for more."
"Meghan's place is absolutely incredible, I didn't have any idea how unique and cool this little cabin was until I got there! It's really unlike any other-from it being an actual cabin, to the Wes Anderson style, and record player-all while being super comfortable with an enormous tub and bed! Meghan is so kind, a wonderful host...I'd highly recommend staying here if possible, a great experience all around!!"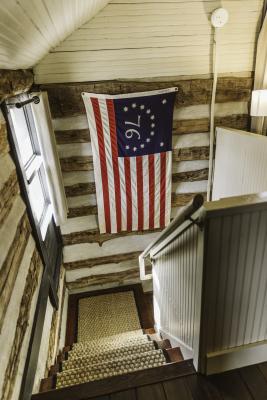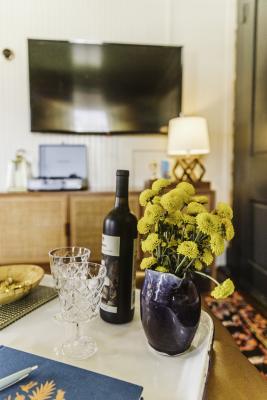 The cabin is exactly as it appears in the pictures. Great for a couple's getaway. Despite the rustic exterior, the interior is really well furnished and decorated and spotlessly clean. Wonderful modern bathroom with a shower and whirlpool tub. King bed upstairs with a comfy mattress. And Meghan is super responsive and quick to address any questions. Great communication and flawless check-in. We had a truly wonderful stay."