Jackie and Mark Huebbe are bringing their talents in delicious dessert making to Main Street Saint Charles. In 2012 the couple opened local cookie supplier and beloved confectionery catering company SugarBot Sweet Shop, "with a KitchenAid mixer and a goal to do things the right way." That meant great recipes, no artificial ingredients, and a historically accurate remodel on their Fifth Street home/ company headquarters. In August of 2018, Jackie and Mark acquired Little O's Old Time Soda Fountain, and with that same vision in mind, they set about revitalizing this St. Charles favorite.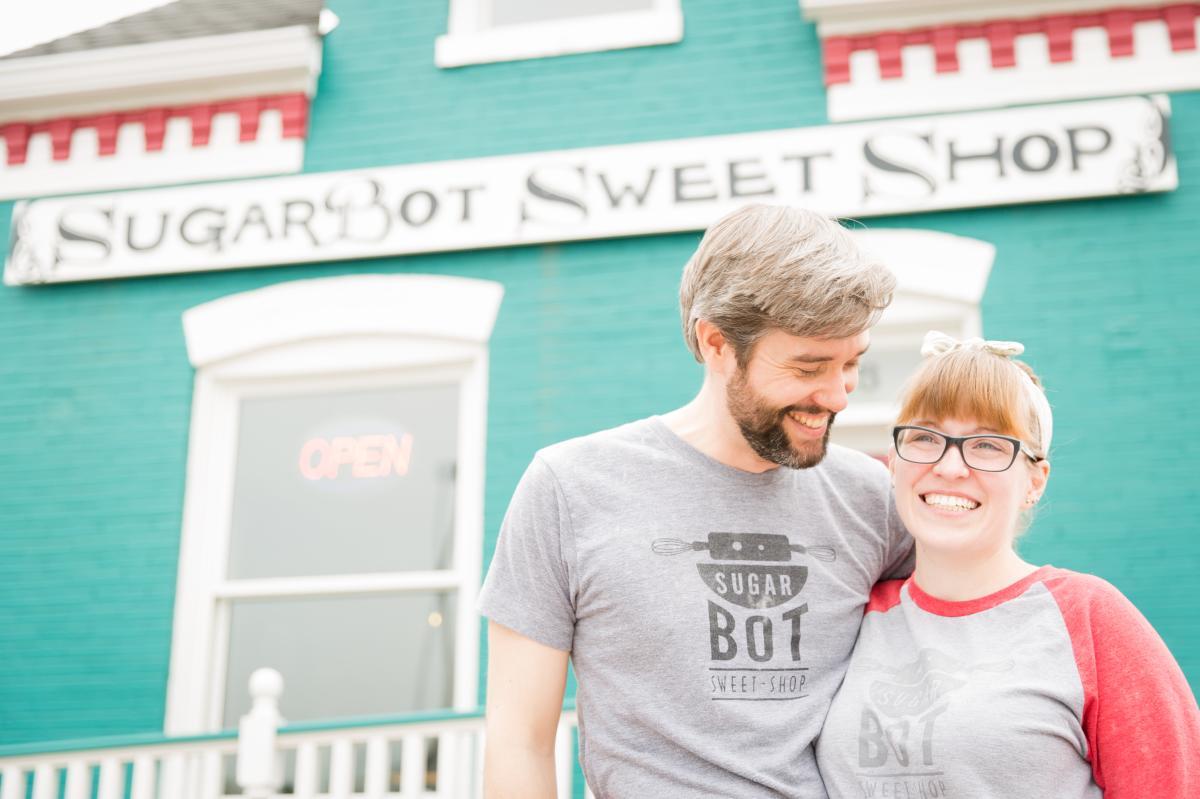 With the new menu she's bringing to Little O's, Jackie explained, "the goal is to just to do handcrafted, handmade ice cream and desserts done really well, and done in a historically accurate manner. None of our soda syrups have high fructose corn syrup or artificial flavors everything is pure cane sugar, no artificial colors, no artificial flavors, no artificial preservatives, no Crisco. It's all what you would think it would be- butter, sugar, flour."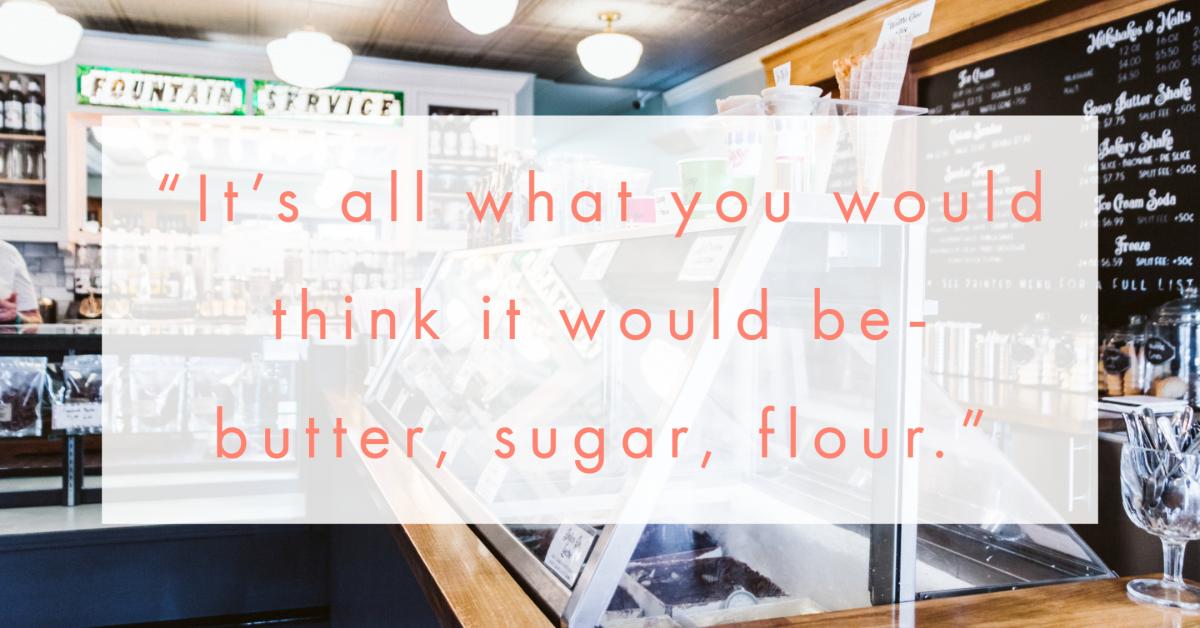 For Little O's ice creams, that means a curated selection of 16 flavors, all mixed specifically for Little O's at a Missouri dairy. "Our ice cream is milk, heavy cream, sugar," says Jackie, "our strawberry ice cream is made with strawberries!" Their 3 signature flavors are "Cinnamon Snickerdoodle," "Yeti," and "Oatmeal Chocolate Chip Cookie Dough." Each signature ice cream is created with unique bakery items from SugarBot Sweet Shop. Unique to Little O's, the "Cinnamon Snickerdoodle" ice cream is a cinnamon ice cream blended with SugarBot's best-selling snickerdoodles. "Yeti" is chocolate-mint lover's dream, with SugarBot's double chocolate, mint chip cookies crushed and blended with vanilla ice cream. "Oatmeal Chocolate Chip Cookie Dough" has SugarBot's eggless, heat-treated cookie dough (available jarred in-store), cut into small pieces and blended with sweet cream ice cream.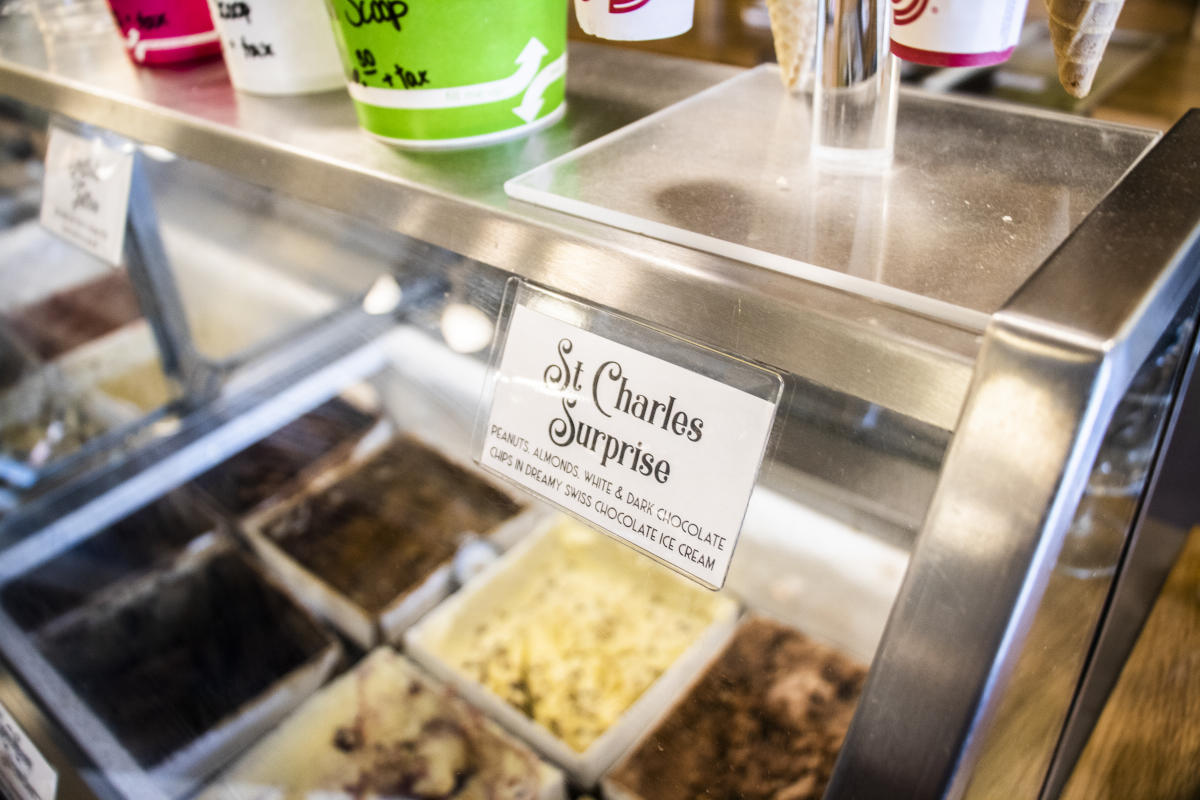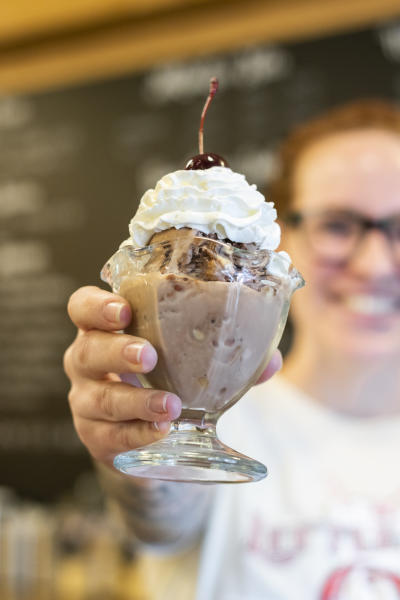 As their ice cream is locally made, Little O's Ice cream is super fresh, and Jackie has been able to adjust and perfect their flavors as much as she wants, "our ice cream is manufactured on Monday and delivered on Wednesday, and so it is very rare that any of the ice creams that you would have would be more than a week old. I mean it's SUPER fresh. and it's awesome to be able to make little changes...when we first started doing mixins we would hear back, this has too many mixins, or this doesn't have enough mixins, and by the next week we can make a change."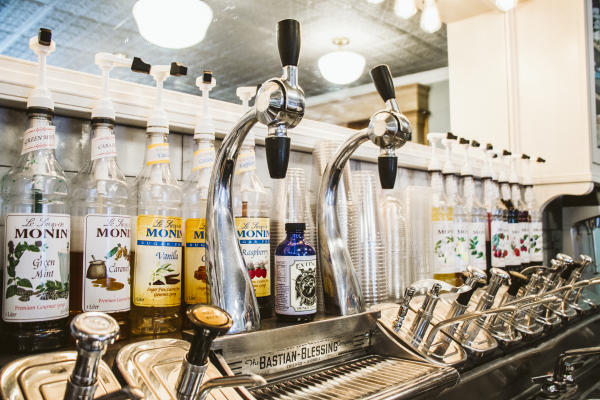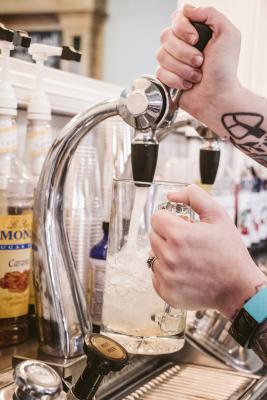 Little O's makes real phosphate sodas, the old fashioned way. Straight out of the 1940s, their soda fountain is gorgeous and produces delicious, nostalgic sodas. Choose whatever flavors you like of soda and ice cream for a delicious, old fashioned float, which will be presented to you impeccably made on marble counters in a big glass mug.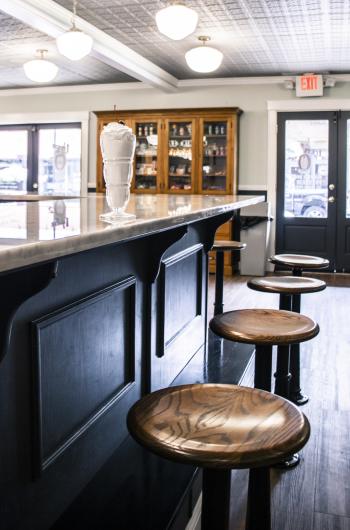 Looming in my mind as I interviewed Jackie was the obvious question for a new Little O's owner, "are you still doing gooey butter cake?" "Absolutely!" she answered. Jackie and her husband Mark have brought with them to Little O's one of the St. Louis area's original gooey butter cake recipes, created at Mark's great uncle Otto Burgman's Bakery, City Bakery in Union Missouri. With real butter, whole eggs, pure vanilla extract and "nothing weird," the cake is a gooey, chewy, St. Louis treasure!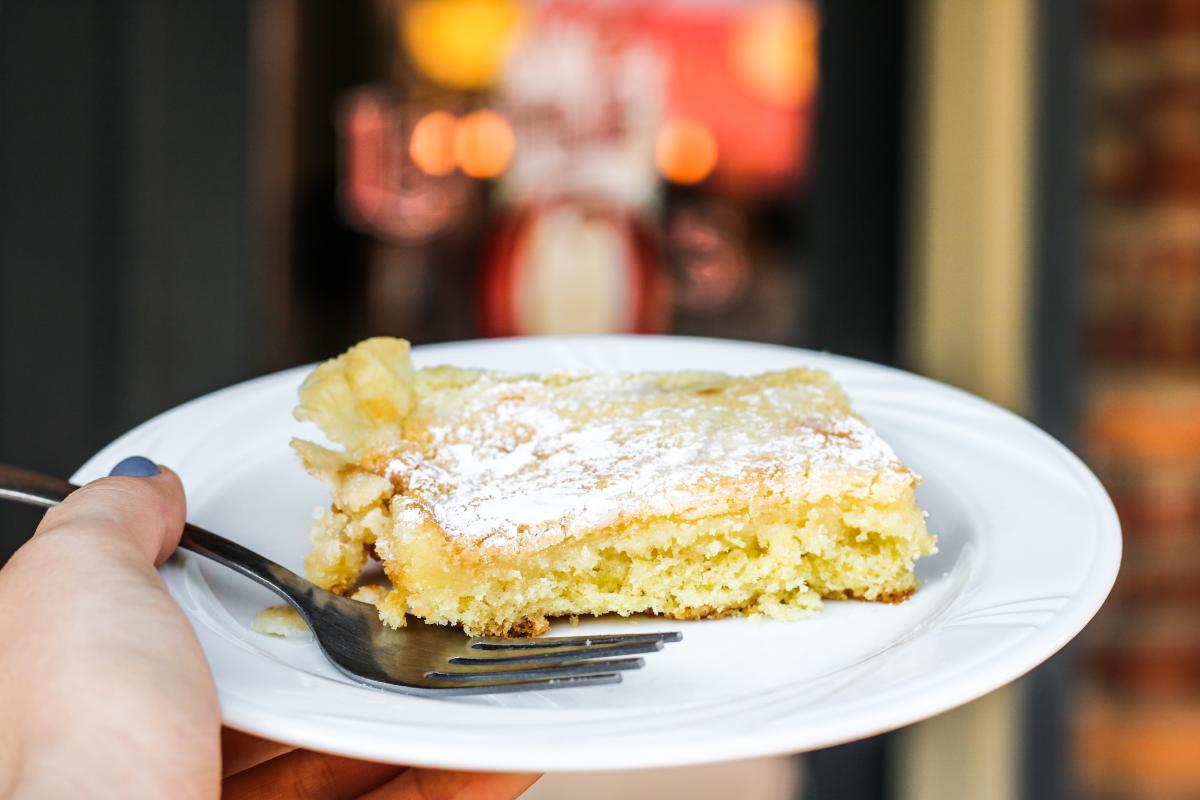 The "Gooey Butter Milkshake" is Little O's most popular item. This delicious cake and ice cream creation has been a Little O's tradition for years, and Jackie and Mark weren't about to get rid of it! The "Gooey Butter Shake" contains a big square of Gooey Butter Cake, blended with your choice of locally crafted ice cream. Second to the gooey butter shake, yet almost rivaling it in popularity is the "Bakery Shake," a blend of Little O's featured "Cake by the Slice" and again, your choice of locally crafted ice cream.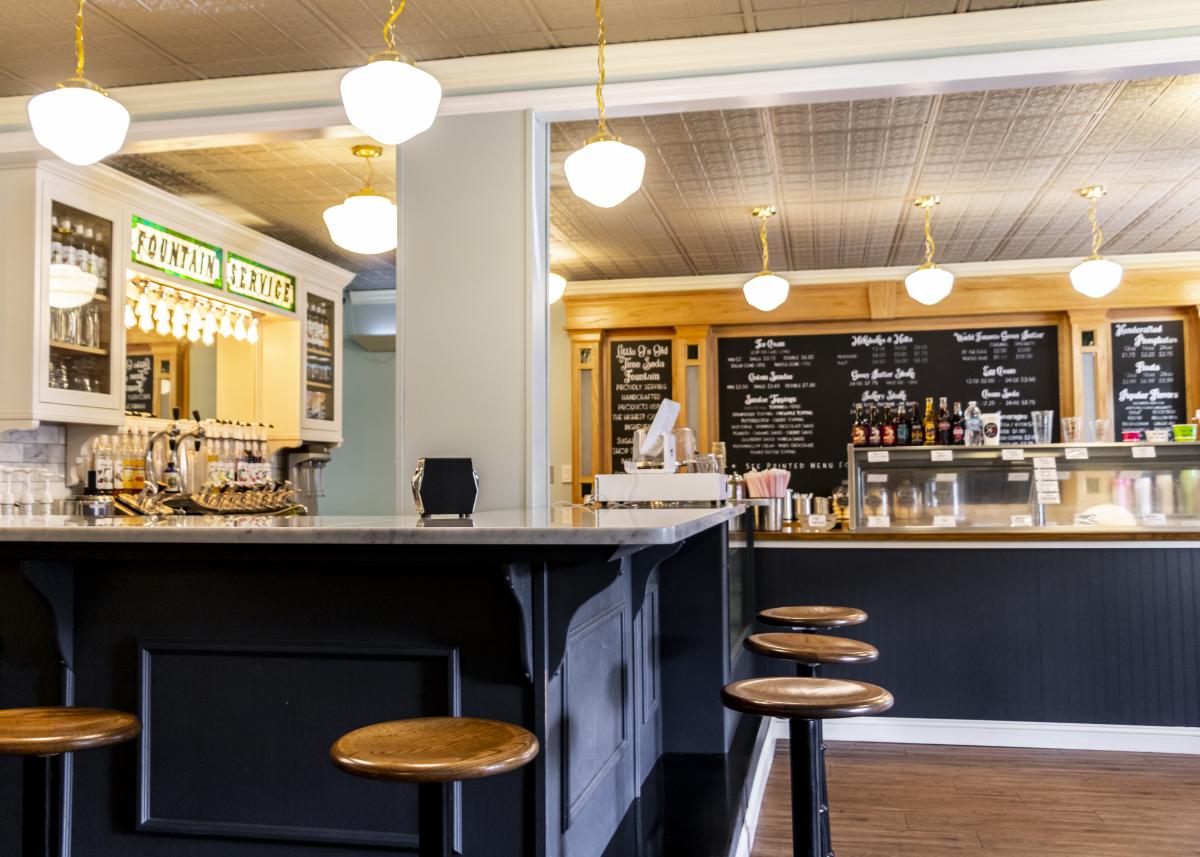 Jackie and Mark believe it is vital that a visit to Little O's feels like a visit to the past. "We really made moves towards it being actually historically accurate. So we have the marble tabletops, all the marble countertop, we have wrought iron bar stools with wood booths, and it's all the same oak, so all of the seating matches."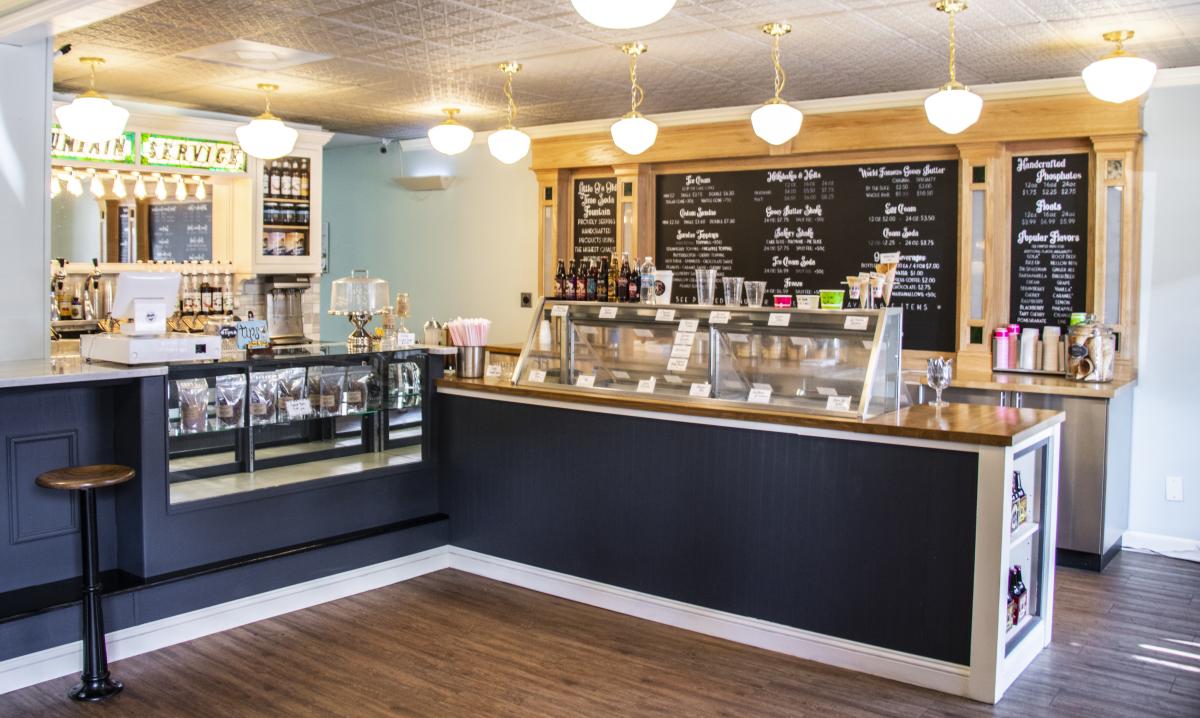 The space feels both bright and homey, which was Jackie's intention. "We wanted it to feel equal parts open and cozy, I don't want it to be that the walls are covered in things, we wanted it to be really clean and inviting and welcoming, and somewhere that you feel like when you walk in you have space, and you can look around."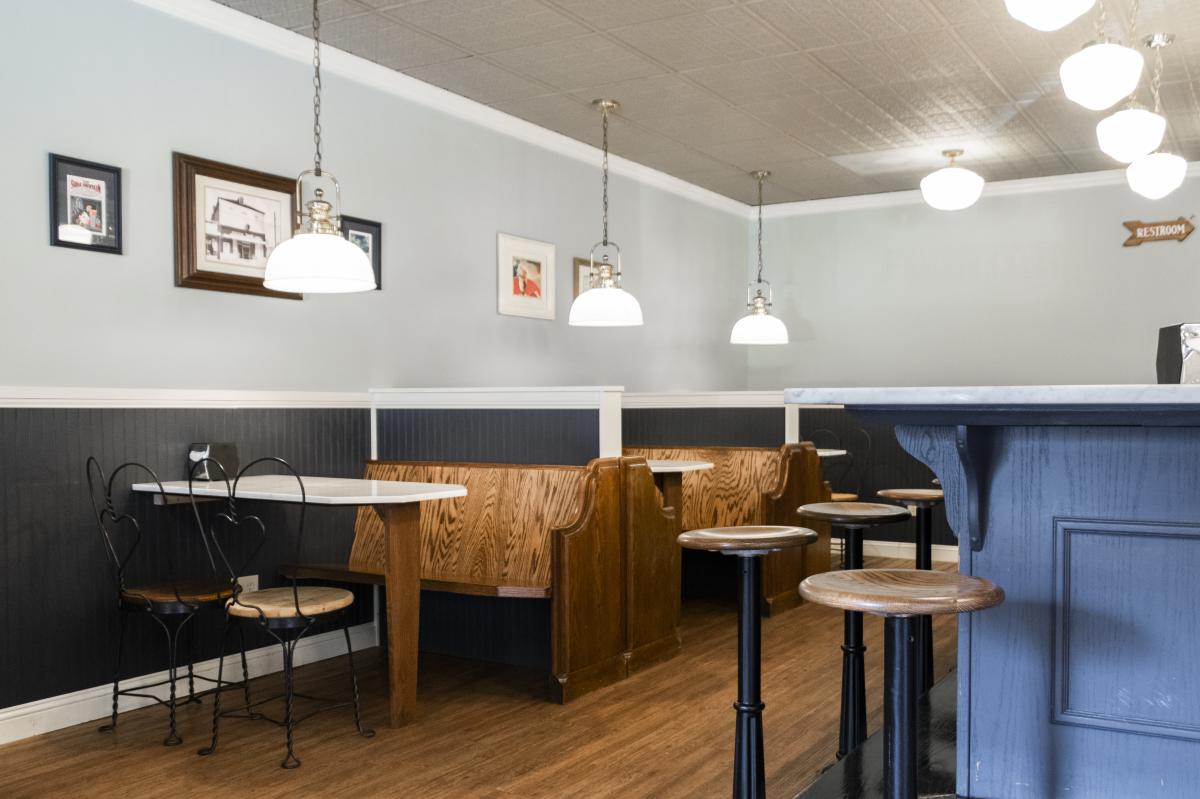 On the walls of Little O's you'll find pieces of both Jackie and Mark's family history, adding a personal touch to the shop that is their new family endeavor. "The ads on the wall are for my husband's great uncle's bakery, and then all of the pharmacy soda fountain stuff is my grandpa's- I grew up in Hermann, Missouri and my grandpa started the pharmacy there...it was a pharmacy and soda fountain, so... I grew up kind of knowing that, with that history and the old milkshake mixers...we were able to use stuff from my family and Mark's family to bring [Little O's] all together."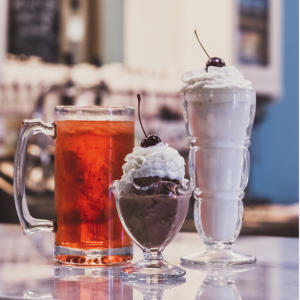 For more information about Little O's Old time Soda Fountain,
click here.
Photography by Mary Van Winkle, Cover Photo by @considerately