Free Events
Saint Charles Christmas Traditions® is a month-long celebration, the festival runs Wednesdays, Fridays, Saturdays, and Sundays from the day after Thanksgiving through Christmas Eve.

OPENING DAY CEREMONY
November 29 at 11:00 AM
The Gazebo at Kister Park - 400 block of South Main

The 45th Season of Saint Charles Christmas Traditions® will begin with the arrival of Santa and Mrs. Claus,  escorted by the Lewis & Clark Fife and Drum Corps and all of your favorite Legends of Christmas. 

TREE LIGHTING CEREMONY
November 29 at 5:00 PM
Berthold Square - corner of South Main Street and First Capitol Drive

Join the Cobblestone Wassailiers for the annual lighting of Saint Charles' Official Christmas Tree. While you're there, take the chill off the evening air with a complimentary cup of piping hot wassail.

SANTA PARADE
Opening Day, Saturdays & Sundays at 1:30 PM
Parade Route - 1000 South Main Street to the parking lot of the Tourism Center (corner of First Capitol and Riverside) 
Weekends during the festival offer visitors a special holiday treat as Christmas Traditions' famous Santa Parade brings pomp and pageantry to the historic district. Marvel at the spectacle as all of your favorite legendary Christmas figures march right down the middle of Main Street. Delight at the antics of our playful storybook characters, revel in the sounds of Christmas music through the years provided by the carolers, and witness the fanfare as an international delegation of global gift givers process while carrying the flags of their native countries. The parade culminates with an appearance of the big man himself—Santa and Mrs. Claus who arrive via horse-drawn carriage.
Follow the procession from the 1000 block of South Main to the 200 block of South Main, where behind the Visitors Center (230 South Main) you can experience the Holiday Talent Hoopla, and watch several of the Christmas legends  showcase their special skills in a talent show unlike any you've ever seen before. Ventriloquism, interpretive dance, stand-up comedy, mind reading…you never know what to expect in this unique competition.

SANTA'S COTTAGE
Santa is excited to meet with visitors during the following hours*:
Opening Day, Friday, November 29 from Noon to 5:00 PM
Saturdays from 10:00 AM to 6:00 PM 
Sundays from Noon to 5:00 PM
​Christmas Eve from 11:00 AM to 1:15 PM)
*Please note that Santa's Cottage will be closed between 1:15 and 2:30 pm on Opening Day, Saturdays and Sundays during the festival, so that Santa can join his friends in the Santa Parade.
Katy Depot - 
The Historic KATY Depot in Frontier Park has been a Saint Charles landmark since it opened in 1893. But not many people know that during the holiday season, Santa uses it as a special workshop outpost as he counts down to Christmas Eve. Mr. Claus wants to let you in on the secret as he welcomes you to become an "honorary elf," as you explore the workshop, get a glimpse of his busy mailroom, and witness the majestic Reindeer Hall of Fame, where you can learn some of the stories of Santa's lesser-known reindeer (you know…the ones that didn't have a red nose).
Meet with Santa in his parlor where you can share a Christmas wish list, take a photo, and maybe even sneak a peek of the famous naughty and nice lists.
High quality professional photos with Santa are available to help remember your visit. A variety of photo packages are available and can be purchased with either cash or credit card.

OH, CHRISTMAS TREE:
THE EVOLUTION OF AN ICON
All Festival Hours 
Katy Depot -  
Perhaps no image is as associate with the holiday season as the Christmas tree. For centuries these festive evergreens have not only provided a fitting place for Santa to deposit gifts, but have stood as a global symbol for the hope and meaning of Christmas.
Journey to the Historic KATY Depot in Frontier Park to experience "Oh, Christmas Tree: The Evolution of an Icon," an exhibit that will lead visitors on a gentle winding path through history as a forest of tannenbaums illustrate how trends and fashions effected the stylings of trees over generations. From the first illumination introduced to pine trees by Martin Luther, to the mid-century modern flair of aluminum trees in the 1950s and 1960s, discover interesting trivia as you view international variations of this holiday icon, while celebrating famous depictions in popular culture (from Charlie Brown's sad sapling to Seinfeld's "Festivus Pole").
Though the style has changed over the years, one thing is certain: this exhibit will leave you pining to learn more about the holiday season's biggest decorative star.

CANDLELIGHT READING OF
'TWAS THE NIGHT BEFORE CHRISTMAS
Wednesdays & Fridays from *6:30 PM to 8:30 PM
First Missouri State Capitol State Historic Site - 200 South Main Street 

Enjoy a special telling of "Twas the Night Before Christmas" by author Clement Clarke Moore, accompanied by the music of the season. *Readings happen every 15 minutes

STORYTIME WITH CHRISTMAS FRIENDS
Saturdays at 11:30 AM, 12:30 PM, 3:00 PM, & 4:00 PM
Sundays at 12:30 PM, 3:00 PM, & 4:00 PM
First Missouri State Capitol State Historic Site - 200 South Main Street 

Join Mrs. Claus and Mother Goose at the First Missouri State Capitol Historic Site as these merry matriarchs share a treasury of their favorite festival holiday tales.

THE COBBLESTONE WASSAILERS IN CONCERT
Opening Day, Saturdays & Sundays at 4:00 PM
Kister Park Gazebo - corner of South Main and First Capitol Drive 

Come enjoy the dulcet tones of Saint Charles' own Cobblestone Wassailiers as they all join together for a concert. Singing many of your beloved carols, and beautiful songs that you'll be delighted to hear for the first time, our carolers promise to provide a concert both young and old will enjoy!

EVENING CANDLELIGHT PROCESSIONALS
Wednesdays, Fridays, & Saturdays at 8:30 PM and Sundays at 4:30 PM
900 Block of South Main Street to Kister Park

Cap off your evening of festivities by participating in the candlelight processional, as The Legends of Christmas make their way to the gazebo in Kister Park. Join them in a sing-a-long of traditional Christmas carols lead by the Cobblestone Wassaliers, Saint Charles' official Christmas Carolers.

LAND OF SWEETS GumBALL
Opening Day & Saturdays at 3:00 PM, Sundays at 12:30 PM
Kister Park Gazebo - 400 Block of South Main Street 

Twirl, tap, or taffy twist your way to the gazebo in Kister Park to boogie along with Clara, the Nutcracker Prince, and Sugar Plum Fairy. Showcase your best dancing skills or learn some sweet new moves. You'll leave with visions of sugar plums dancing in your heads and carols ringing in your ears.

KRAMPUS KARNIVAL:
THE BIZARRE, ODD, AND CURIOUS TRADITIONS OF CHRISTMAS
Wednesdays and Fridays from 6:00 PM to 9:00 PM
Katy Depot - 
You'd better watch out! Krampus is coming to town! On Wednesday and Friday nights, be prepared to experience some of the wonderfully weird holiday customs from around the globe as Krampus (the furry, punitive partner of Saint Nicholas in Bavarian and Austrian culture) has arrived in Saint Charles with his notorious batch of kooky (but friendly) friends. From Gryla (the quirky Icelandic ogress) to Mari Lwyd (the whimsical skeletal Welsh horse), and those whacky mischievous Greek trolls, the Kallikantzaroi, they have all assembled and have transformed the deck of the historic KATY Depot in Frontier Park into a turn-of-the-century carnival mid-way.  Step right up as these madcap carnival barkers share their stories in the form of classic boardwalk games. But look closely and you'll see that these games have been "Krampus-fied!" You'll never look at a game of cornhole the same way again once you've tossed a human-shaped beanbag into the mouth of a wooden ogre. Continue inside the KATY Depot where you will see that Krampus himself has decided to re-decorate Santa's home-away-from-home. With eerie lighting and the sound of macabre Christmas carols floating through the air, enter Santa's parlor that has been re-imagined as Krampus' lair. Spin the wheel of misfortune, and have a laugh at Krampus' comical antics. Create lasting memories as you discover the peculiar holiday traditions from around the world during this curious experience that is certainly more "merry" than "scary."

VOICES OF CHRISTMAS
Saturdays & Sundays at 2:30 PM
OPO Plaza - 119 South Main Street

Share in the sounds of the season as guest choirs from across the region present a program of special music and joy. These schools and community groups are sure to have you smiling and reminiscing about holidays gone by and help you begin new traditions as well.
Special Guests*
November 30
Webster University Chordloks
December 1
Incarnate Word Academy
December 7
Meade County High School (Kentucky)
Rising Generations
December 8 
Holt High School
River Blenders Chorus
December 14
Liberty High School
Winfield High School Chamber Singers
Timberland High School
Bells of Joy (Kister Park Gazebo)
December 15
Discover Elementary
Christian High School
December 21
The Ambassadors of Harmony
*Schedule subject to change

MEET SANTA'S REINDEER
December 21 and 22 from 3:00 PM to 5:00 PM
Backyard of the First Missouri State Capitol State Historic Site - 200 South Main Street 

You know Dasher and Dancer and Prancer and Vixen - now get the chance to meet some of their antlered brethren up close. They won't be playing reindeer games, but you won't want to miss the chance to visit with and have your photo taken with these beautiful animals.

FINAL SANTA PARADE & SANTA SEND-OFF
December 24 at 1:30 PM
Parade Route - 1000 South Main Street to the Parade Stage 

As another year of Christmas Traditions comes to a close, you won't want to miss the opportunity to say so long to your favorite Christmas Friends as they gather at the Parade Stage for a cheerful Closing Ceremony that culminates in the annual Santa Send-Off! Come and cheer Santa and Mrs. Claus as they board a horse-drawn carriage to head back to the North Pole in preparation for the big night.
FESTIVAL HOURS 2019

November 29 to December 24
Wednesdays, Fridays, Saturdays, & Sundays

Opening Day: November 29
11am to 9pm
Wednesdays
6pm to 9pm
Fridays 
6pm to 9pm
Saturdays
10am to 9pm
Sundays
Noon to 5pm
Christmas Eve: December 24
11am to 2pm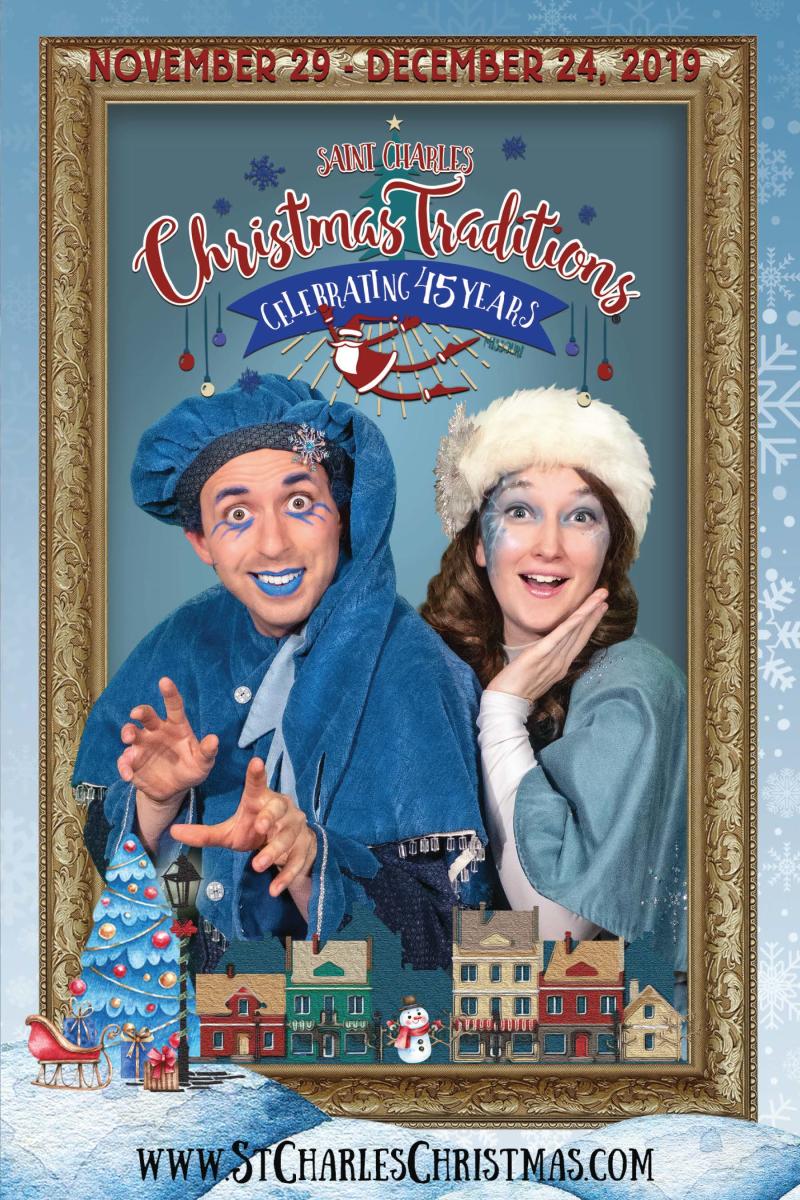 Click Here for the 2019 Festival Guide