National Tourism & Travel Week
Happy National Travel & Tourism Week!
As we begin May, we celebrate National Travel and Tourism Week. During the past two years, the travel industry experienced devastating blows in all sectors, but we're turning our eyes on the future - and planning ways to come back stronger than ever before. Prior to the pandemic, the U. S. travel industry experienced 10 straight years of growth due to the strength of the domestic leisure travel, domestic business travel, and international inbound travel segments.
Here in St. Charles, the effects of the pandemic have been challenging as well, but we continue to see improvement, and are confident we'll soon be back to pre-pandemic levels, as we continue to showcase our beautiful region!
Celebrate in style by stopping by the Tourism Center Thursday afternoon from 3 to 5 pm and again on Friday morning from 8 to 10 am to ring in the #FutureofTravel here in St. Charles. We'll offer snacks and beverages to help make this week special to all who share our love for tourism, in St. Charles and around the world.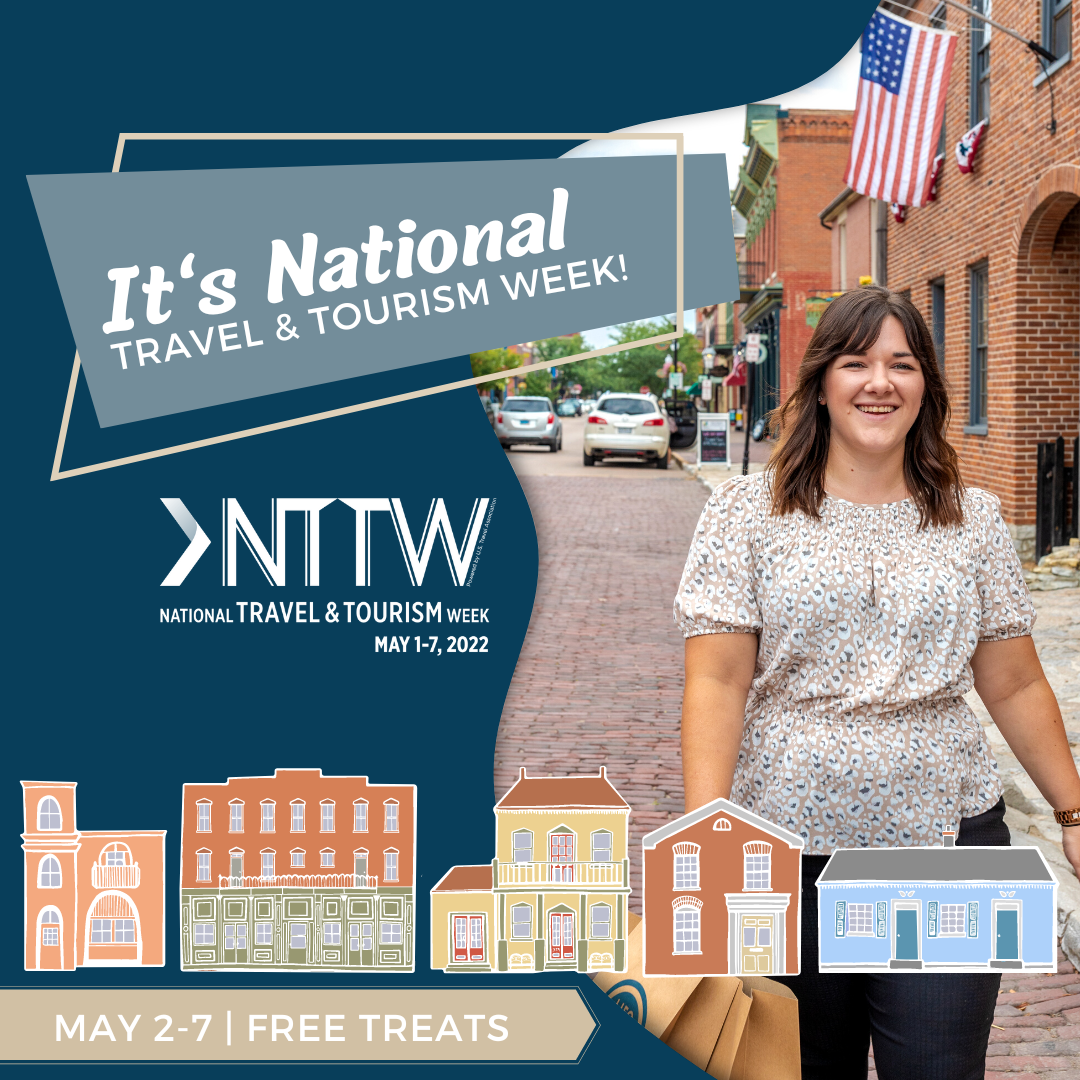 NTTW Sunday:
Innovation
The #FutureofTravel in St. Charles is innovation. That means QR code menus, virtual tours, digital wallet compatibility, and more! To get a taste of innovation in St. Charles, visit the St. Charles Tourism Center to ask about Main Street St. Charles' free Virtual Tour.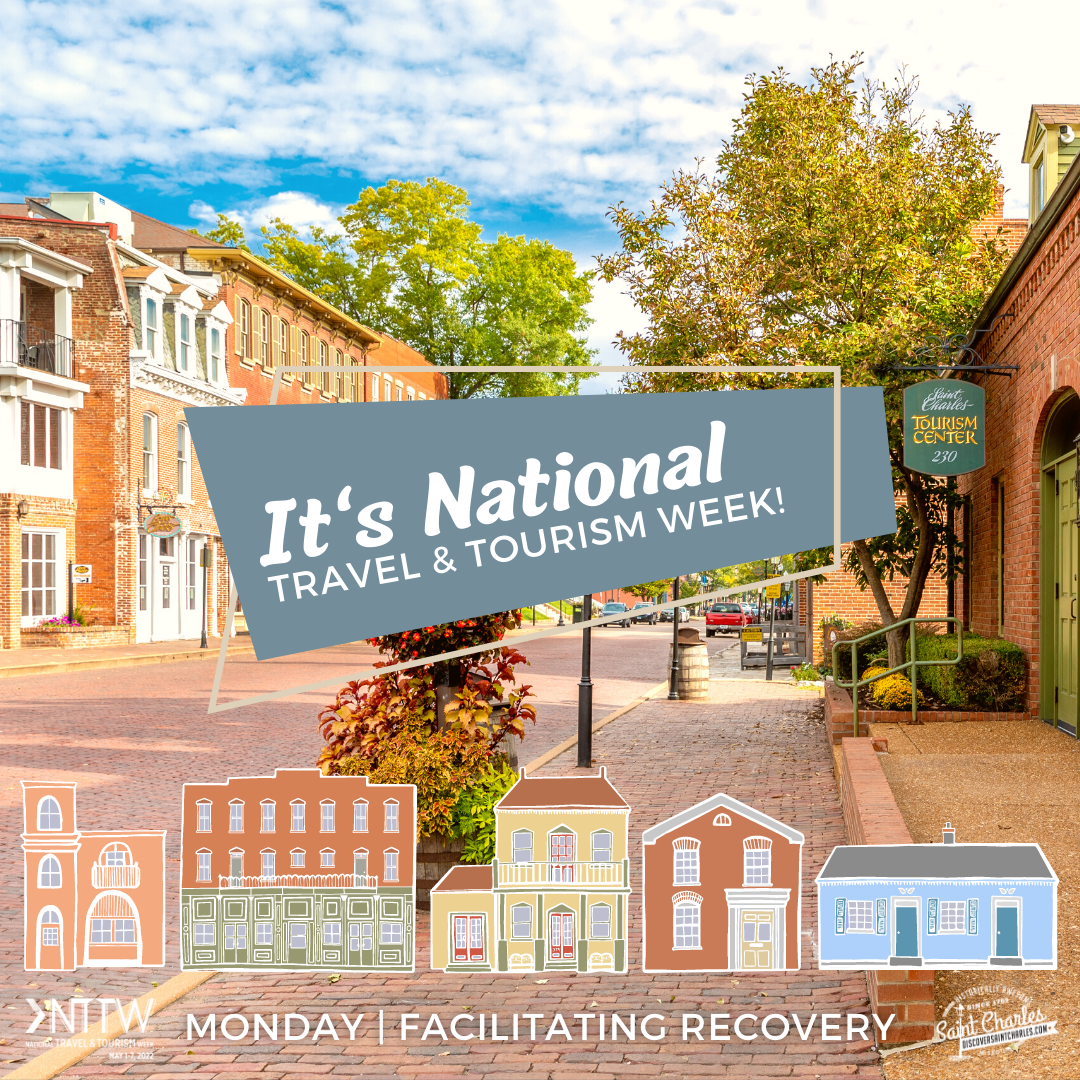 NTTW Monday:
Facilitating Recovery
The #FutureofTravel in St. Charles is facilitating recovery. To celebrate recovery in St. Charles we urge you to support local restaurants, shops, and lodging options when you #DiscoverSTC. We are SO proud of the dedicated audience of visitors that helped our small businesses survive & thrive over the last couple of years. Thank you to all of you for keeping their dreams a reality!
Free at the Tourism Center today: Popcorn! 8 am- 5 pm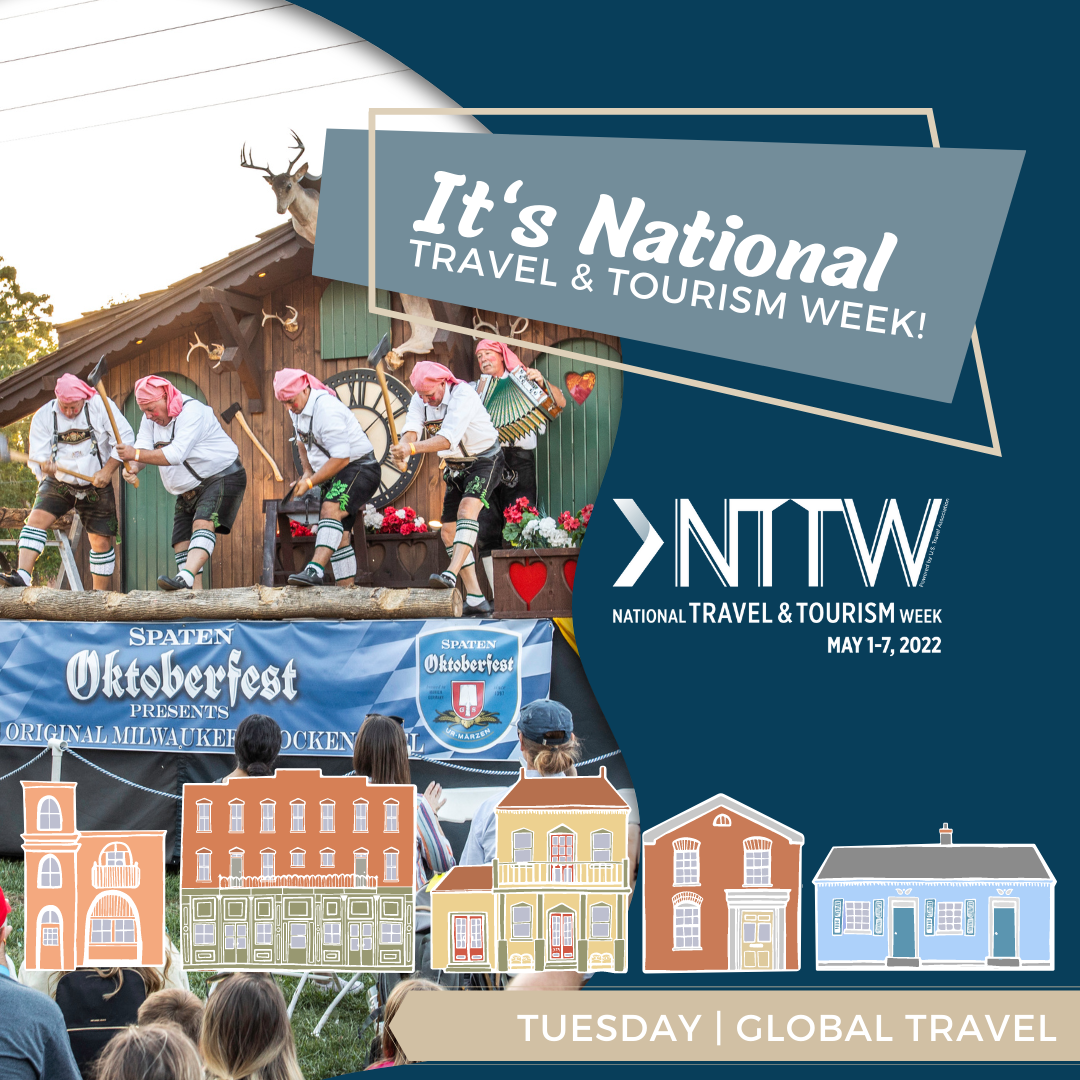 NTTW Tuesday:
Travel Is Global
The #FutureofTravel in St. Charles is global! International travel is vital to the travel economy. We cherish our international visitors, especially those that visit through our sister-cities programs in Inishowen, Ireland and Ludwigsburg, Germany. To learn more about St. Charles' sister cities programs, click here.
Free at the Tourism Center today: Popcorn! 8 am- 5 pm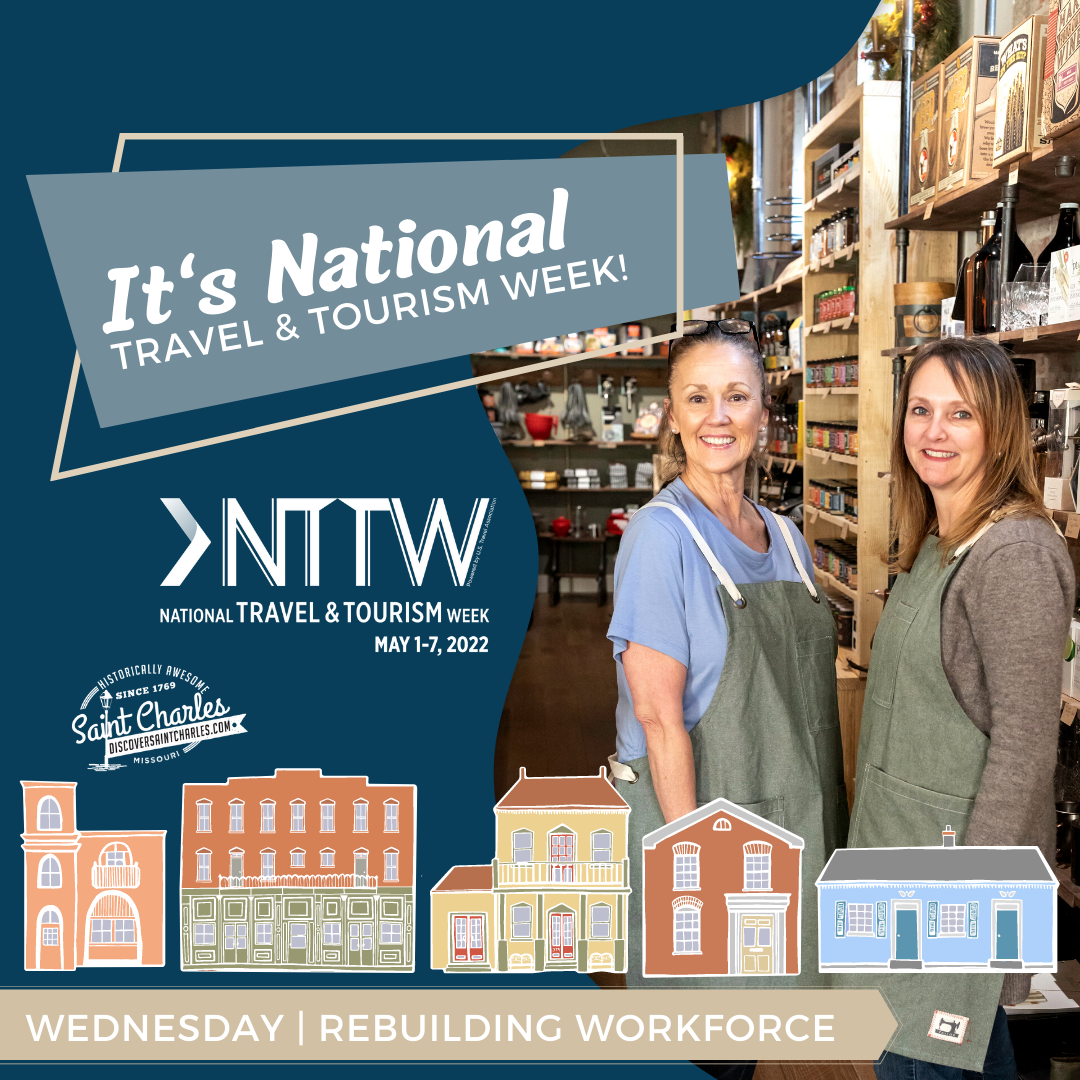 NTTW Wednesday:
Rebuilding America's Workforce
The #FutureofTravel is rebuilding America's workforce, so come and join ours! Main Street is a picturesque work environment, with an amazing community of kind & dedicated small business owners. Many of our local businesses currently have job openings, and we'd love for you to become a part of our local workforce and the St. Charles community. Find lists of St. Charles businesses at DiscoverStCharles.com.
Free at the Tourism Center today: Popcorn! 8 am- 5 pm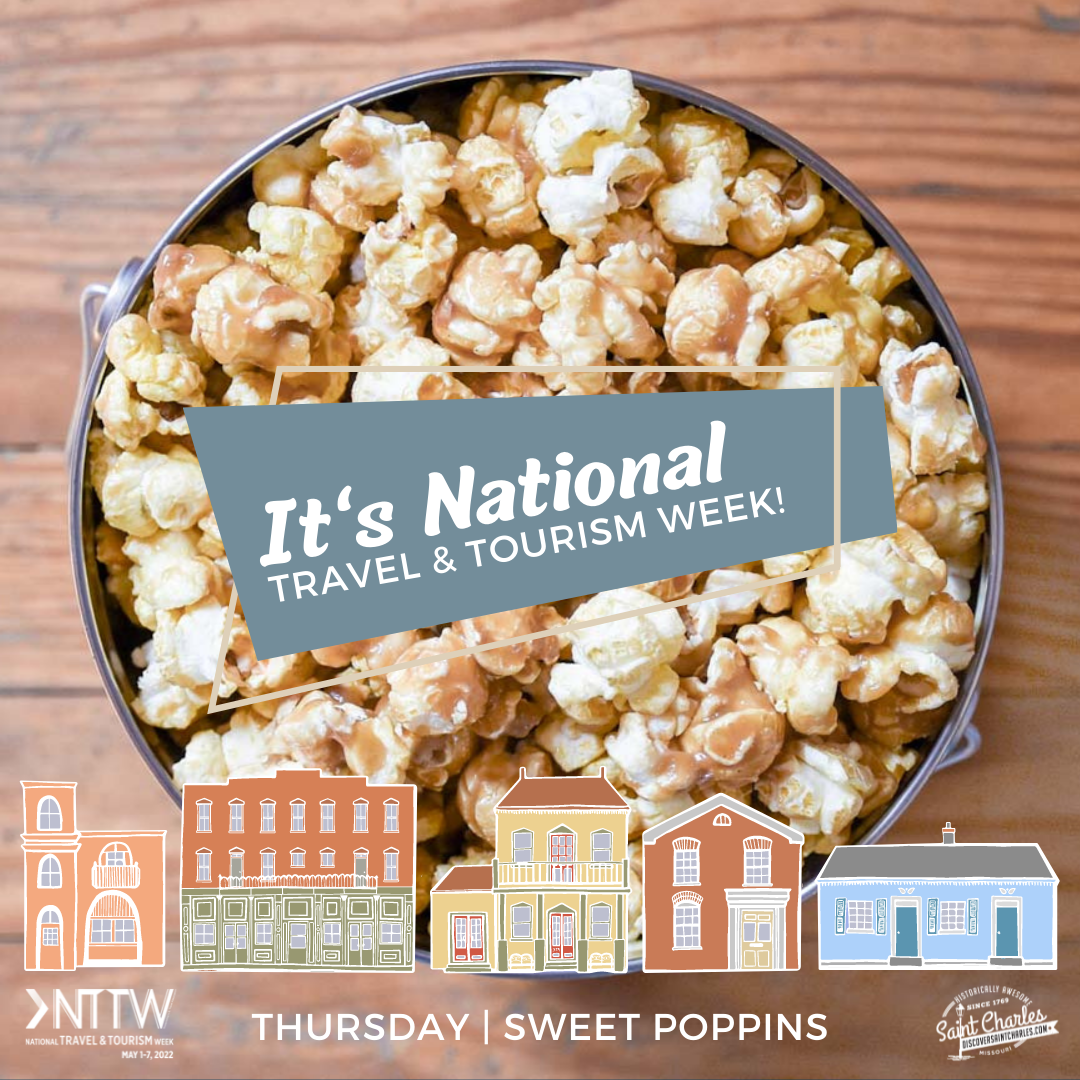 NTTW Thursday:
Inclusive Travel
The Future of Travel is inclusive! Our industry is supporting Diversity and Inclusion in many ways, including by representing our diverse group of visitors in our advertising efforts and providing inclusion resources for differently-abled persons throughout our yearly festivals. We join the tourism community in continuing to increase our efforts towards championing diversity, celebrating inclusion, and moving towards a more inclusive world of tourism.
Free at the Tourism Center today: Sweet Poppins 3 pm- 5 pm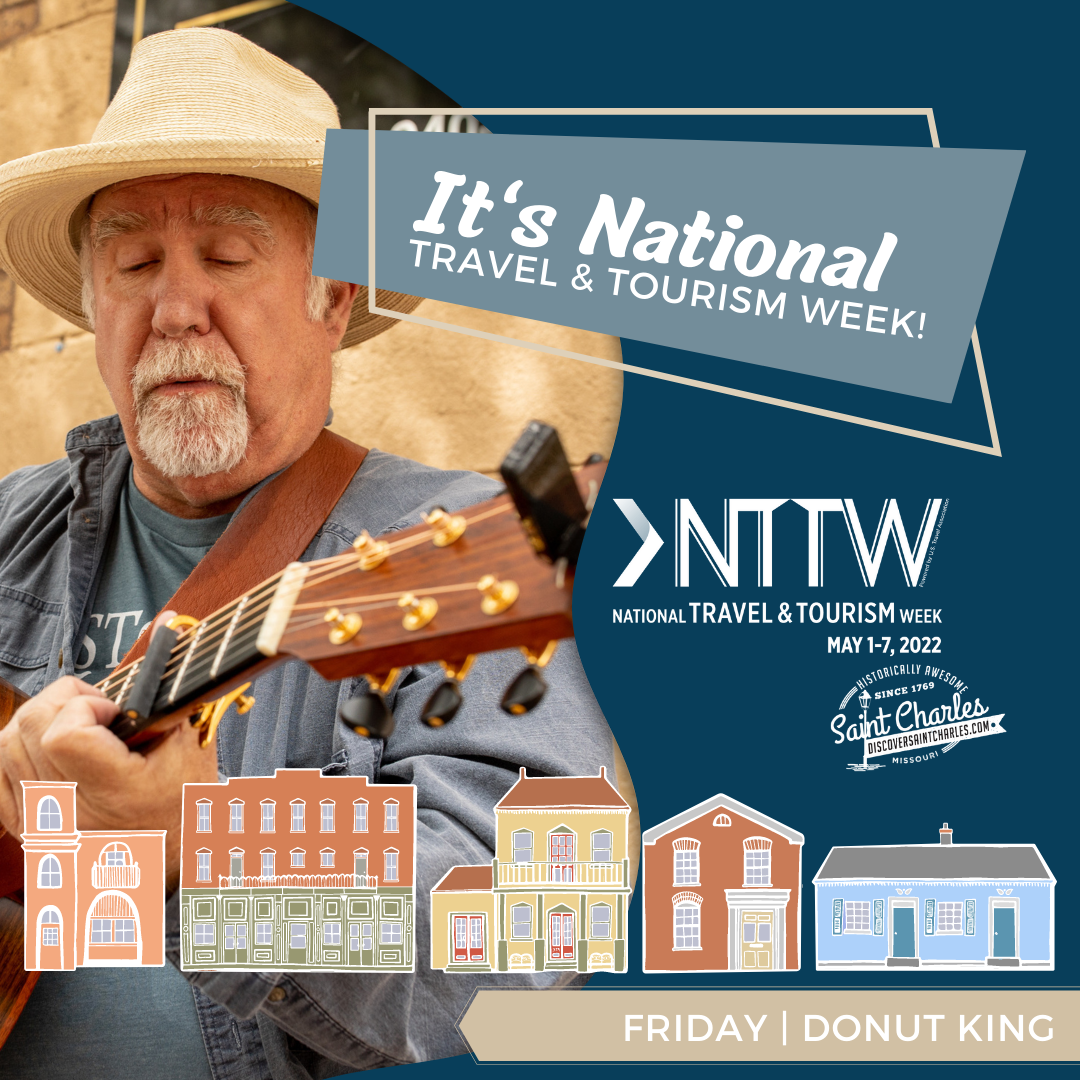 NTTW Friday:
Travel In-Person
The #FutureofTravel is in person! Join us in person at the St. Charles Tourism Center Friday from 8 am - 10 am for free #locallyawesome donuts from Donut King St. Charles in celebration of #NTTW2022. We can't wait to welcome you to #DiscoverSTC!
Free at the Tourism Center today: Donuts from Donut King St. Charles 3 pm- 5 pm