Experience the gorgeous rolling hills and vibrant color of Missouri Wine Country in nature and on canvas at the Annual Augusta Plein Air Art Festival, April 20- 29, 2023. Each year, Augusta welcomes you to relax and witness the tradition of Plein Air, carried out by over 100 artists. Visitors flock to the rolling hills of HMWC as it is skillfully captured on canvas, and have the opportunity to purchase the works created at this festival. Following the Augusta Plein Air Art Festival, the Augusta Chamber of Commerce creates 4 college scholarships from the proceeds, which are awarded to 4 local seniors.
When you stay in Saint Charles, Missouri, Historic Missouri Wine Country is just a short drive away. Plan to spend a day or two exploring restaurants, dining, and history at Historic Main Street, St. Charles, as well as other St. Charles attractions, and then extend your stay to take advantage of the vast views and great wines of the famous viticultural region.
Augusta is in the heart of Historic Missouri Wine Country, and is federally recognized as the first American Viticultural Area (AVA) in 1980. Founded in 1836, the town of Augusta is a short drive from St. Louis, and a treasured getaway by many. The gorgeous countryside is dotted with vineyards and Bed 'n Breakfasts, which host visitors looking to escape their day-to-day, and offer a superb option for those looking to make a multi-day trip of the festival. The towns of Augusta and Defiance have a family-friendly, community atmosphere, and visitors will find that the local businesses and restaurants welcome them with open arms.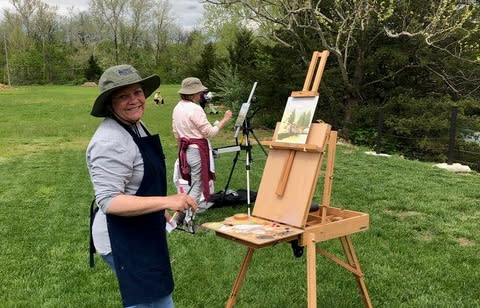 While you're in the area for the festival, take a break from observing art in the making to enjoy food, wine, and fantastic views at the wineries where the festival is taking place. Enjoy Italian appetizers with great Missouri wine at Balducci Vineyards, Missourian's Readers' Choice Award for Best Winery for 16 years. Mount Pleasant Estates is the oldest winery in Augusta, Missouri, and the historic signing place of America's first AVA (American Viticultural Area). Make sure to try their Cabernet Sauvignon, awarded "Gold" at the World Wine Championships.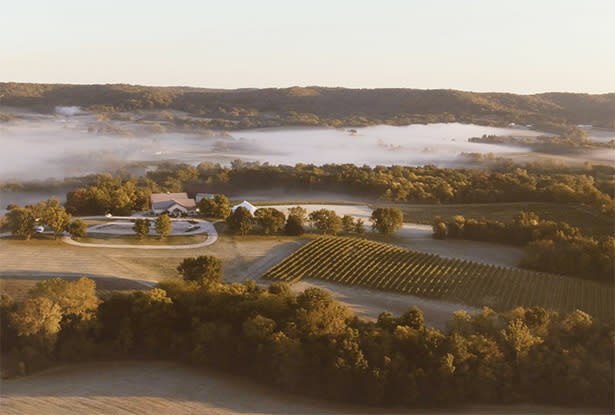 Noboleis Vineyards is a family-owned and run vineyard, with exceptional wines. Enjoy a wine flight in their hilltop pavilion, and order pizza and other appetizers off their menu, or feel free to bring your own picnic to enjoy with Noboleis beverages. There are so many incredible wineries in Historic Missouri Wine Country - explore them all on our wineries page.
The "Quick Paint" event is a fan-favorite event at Augusta Plein Air, and this year it will take place at Noboleis Vineyards. "Quick Paint" starts at the sound of a horn at 8:30 AM, at which point Artists have just 2 hours to create their masterpieces, and must put down their brushes at 10:30 AM.
Another event that you won't want to miss is the Daniel Boone Paint Out. Set in the 300-acre site at which the Historic Daniel Boone Home is located, as well as 12 additional reconstructed historic buildings, the home features a living history museum and picturesque views. This beautiful setting represents life in the early 1800s and brings the legacy of Daniel Boone to life, and visitors to Augusta Plein Air love the chance to step into history at the site.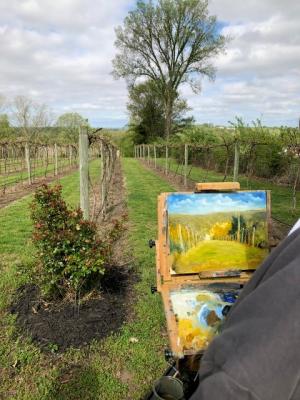 Multiple workshops throughout the event allow painters at a variety of skill levels a chance to take part in art-making at the festival. Each session is taught by an expert plein air painter, and topics include "Light & Atmosphere" with Farley Lewis, "Framing- Tips of the Trade" with Jamie Green, and more. A full schedule of events is available on Augusta Plein Air's website. And don't miss "Breakfast with Aplacas," with The Midwest Alpaca Owners and Breeders Association. At this family-owned farm in Defiance, Missouri, artists will be able to paint not only the breathtaking views of the farm but the antics and beauty of their fun-loving alpacas.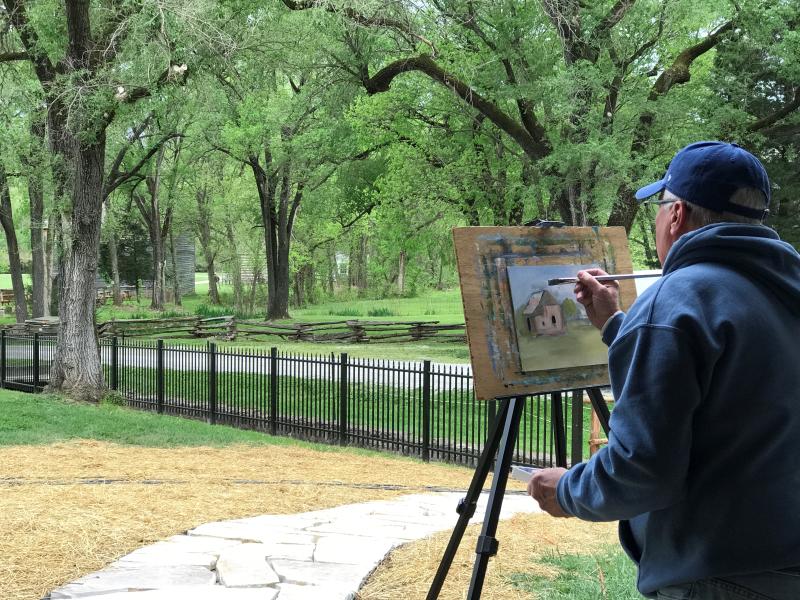 At the conclusion of the festival, visitors get to celebrate the festival's winning artists and shop paintings created during the duration of the festival during the Augusta Plain Air Art Festival Art Fair & Awards Ceremony. Browse beautiful works of plein air artwork in Augusta's town square, as 75+ artists display their new creations. The fair is a vibrant celebration with fun for the whole family, complete with live music, children's activities, and scholarship announcements.
Augusta Plein Air is a locally-loved festival, and each year both artists and tourists flock to the region to take part in the idyllic beauty of wine country and witness art in the making. Whether you're a wine lover, art collector, or looking for a unique way to spend a beautiful spring weekend in Historic Missouri Wine Country, we think you'll love this laid-back art festival in the rolling hills of Augusta, Missouri.
Complete your Historic Missouri Wine Country experience with the sights, sounds, and flavors of the region's wineries, shops, restaurants, and businesses.  

Visit AugustaPleinAir.com for more information, including a detailed event schedule.