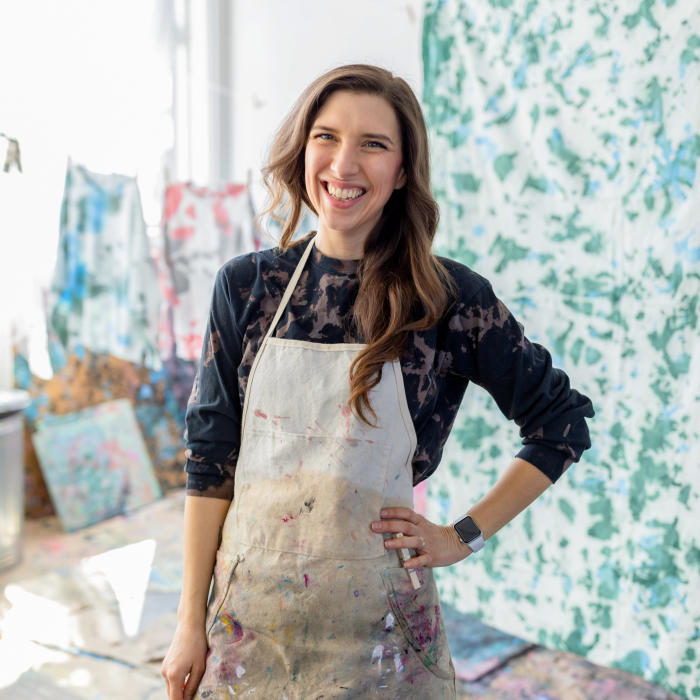 When you walk into The Foundry Art Center, you enter an open and airy event space full of creativity and possibility. The grand hall has clerestory windows that allow the sun to enter the space and dance along the mezzanine. The ground floor offers three gallery spaces, a gift shop where you'll find fine art and gifts, and a stage. These spaces come alive during special events – from special exhibitions to weddings, the Foundry space provides a perfect setting. But, when you look up, you realize there is more to this beautiful building. Upstairs, the Foundry's mezzanine is home to the studios of 14 working artists. Weavers, painters, botanicals, figurative, clay, you'll discover work in many mediums as you walk along the mezzanine. When you round the corner to Studio 10, you'll meet our highlighted artist – Lydia Crespo.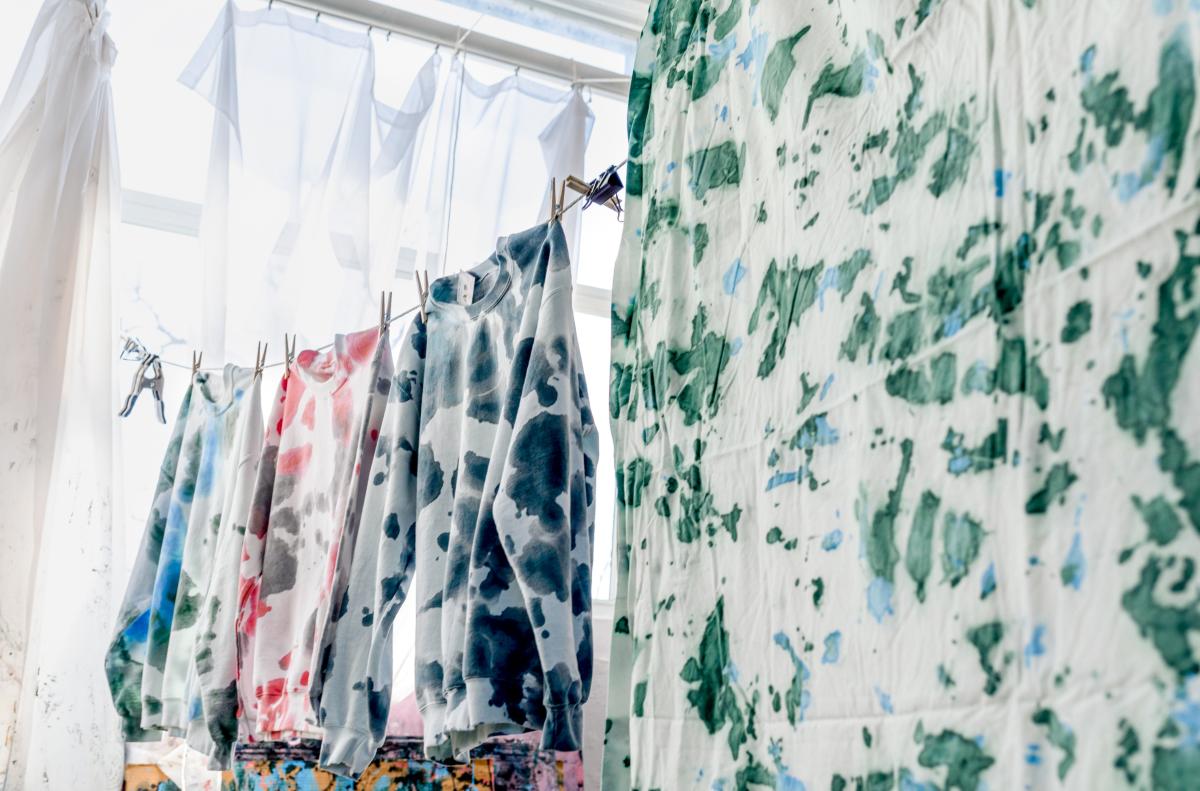 Originally from St. Charles, Lydia began studying and honed her skill for fiber art at the School of the Art Institute of Chicago. There, she learned to create gorgeous textiles with unique patterns and color palettes. Upon graduation, she received the James Nelson Raymond Fellowship and used those funds to start her business, Argaman&Defiance in Chicago. Lucky for us, she returned to her hometown bringing her textiles and imagination with her in 2018.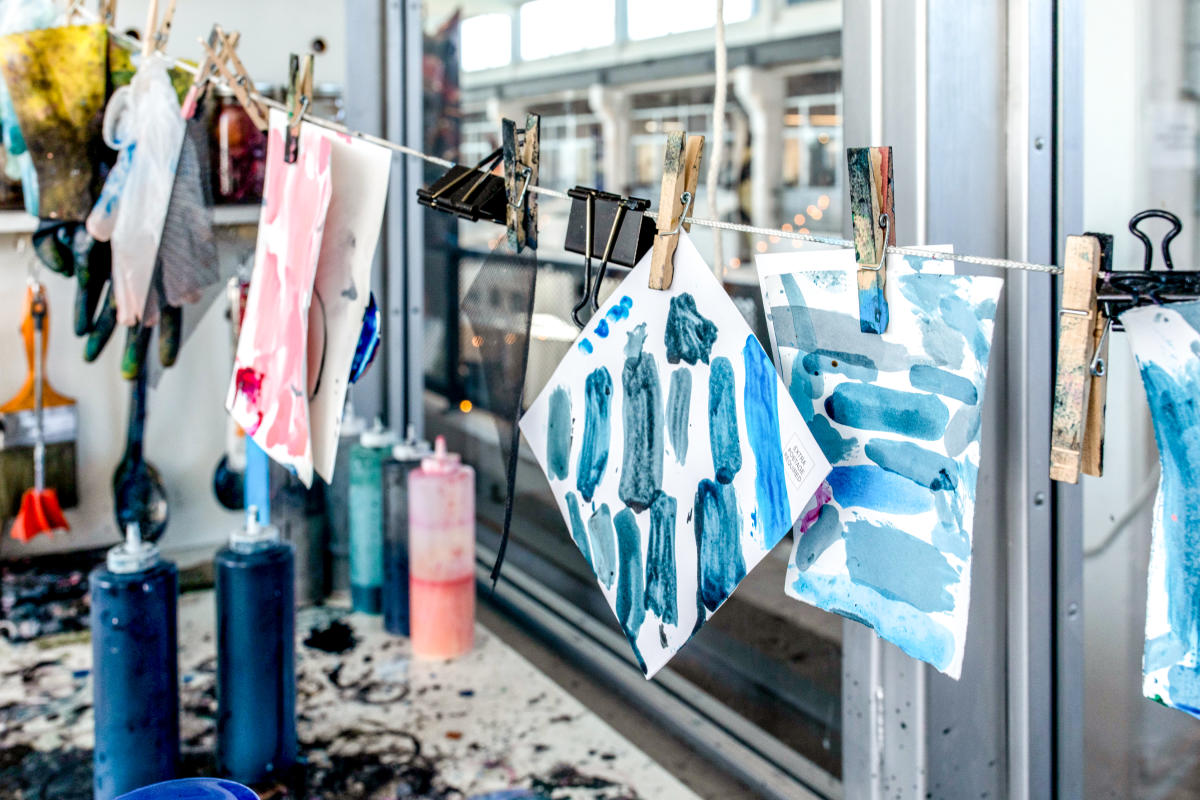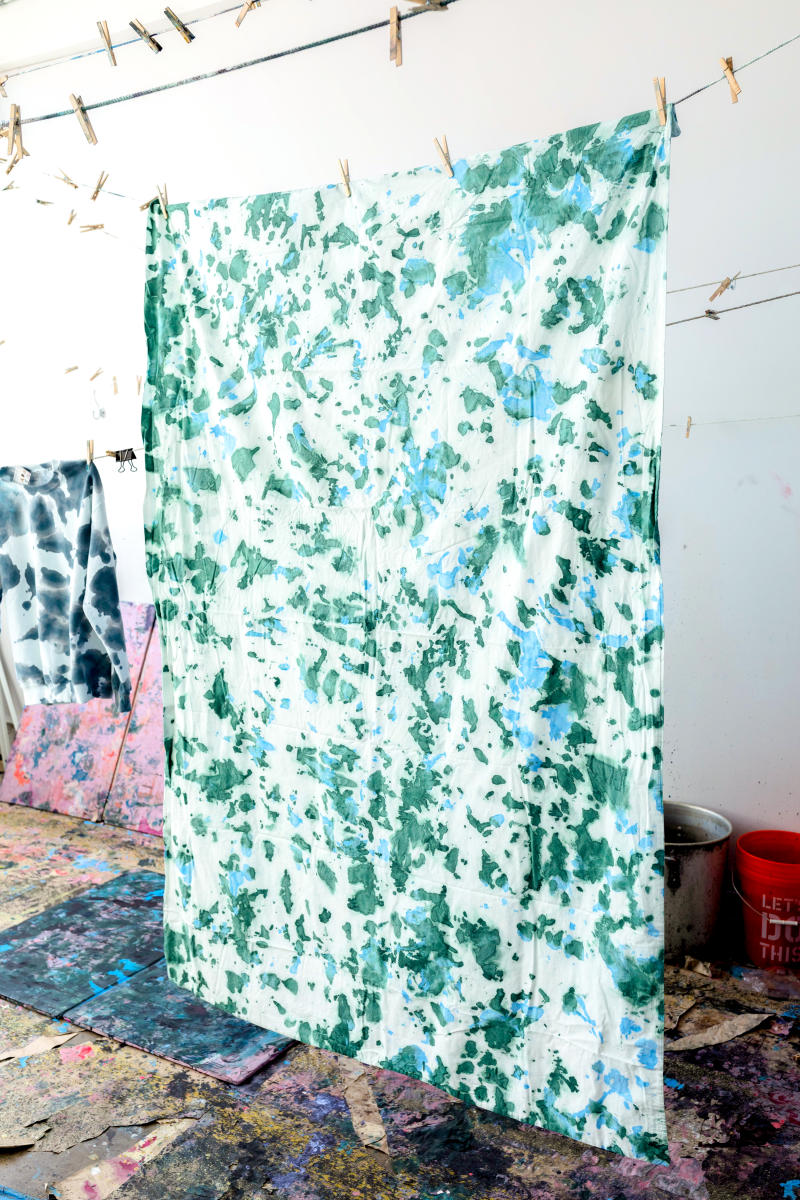 From humble beginnings of 'art as a side hustle' to creating a business that is featured in more than 50 boutiques throughout the United States and led to collaborations with major retailers, Lydia continues to hone her skills as she creates unique clothing and accessories for Argaman&Defiance. Her company name is deeply rooted in her life. Lydia is named after the Biblical character, who practiced the arduous labor of dying fabric purple. Dye would be extracted from a sea mollusk called Argaman, and then used to submerge cloth. The cloth is then laid in the sun, which is what turns it purple. "Defiance" is her family's hometown - Defiance, Missouri, home of her other namesake, her grandmother.
Lydia's love of her craft was born of her love of art, chemistry, the process, the challenge, and the true understanding of the medium. She said that for her, "[dying fabrics] was the first time that art and science perfectly meshed." The process blended her love of color, design, and art, and fired on all cylinders, she loves every single part of her craft.
Her favorite part of her job is also the simplest – getting dirty! "I know my parents probably thought I was crazy," she said, "my grandparents definitely were worried…what's funny is my husband completely understood from the very beginning. I just want to work with my hands every day, it's my first love, it calms my mind."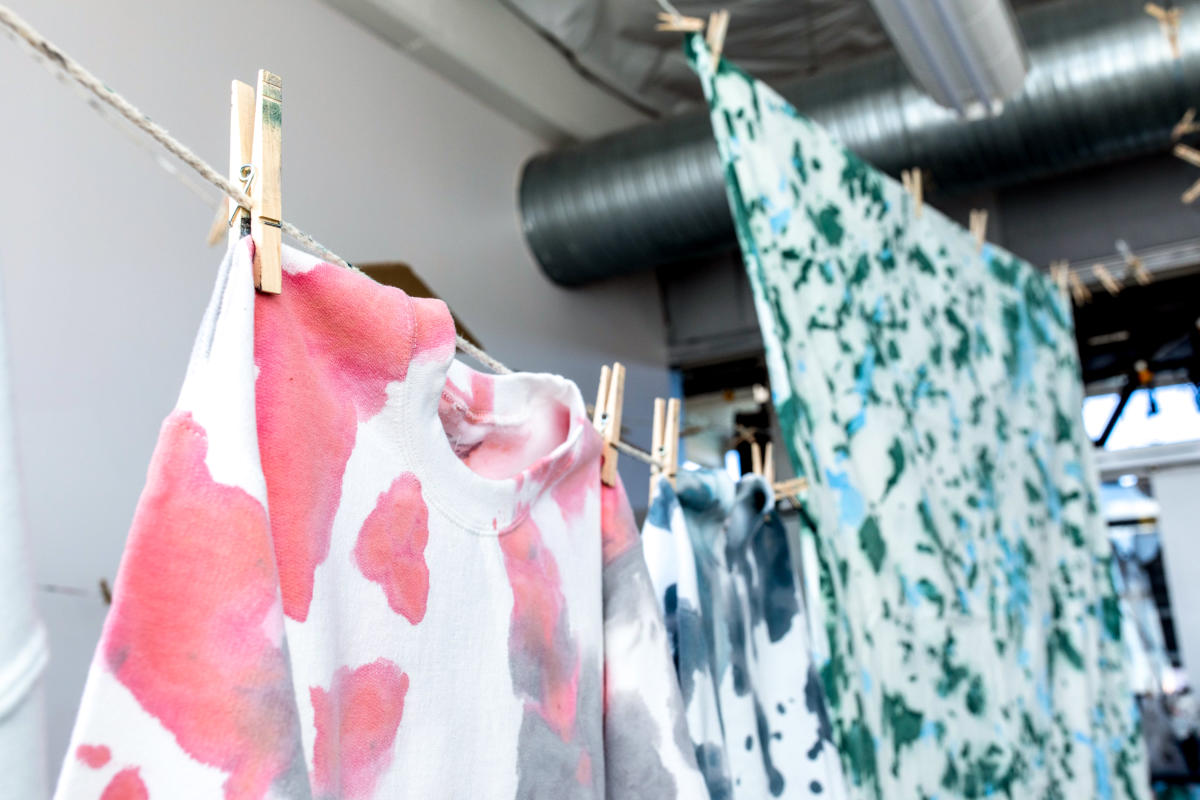 Although she loves Chicago and spent ten years there, Lydia felt like something was missing. "The draw of St. Charles for me was that I could do so much more here, shout so much louder here," she explained, "not to mention, the Foundry is amazing!" Lydia grew up visiting the Foundry Art Centre and when a studio space opened up, she decided to apply. She was juried in as a Studio Artist and now calls Studio 10 at the Foundry home.
Lydia's newest adventure, "Cozy Shop" was born out of the "Retail Next" competition. She was awarded financial and advisory resources to create a retail and workshop location for her company. The result - Cozy Shop STL, a place where she can teach and share the love of her craft with others through workshops, sell her Argaman&Defiance products, and sell the work of fellow artists and vendors she loves.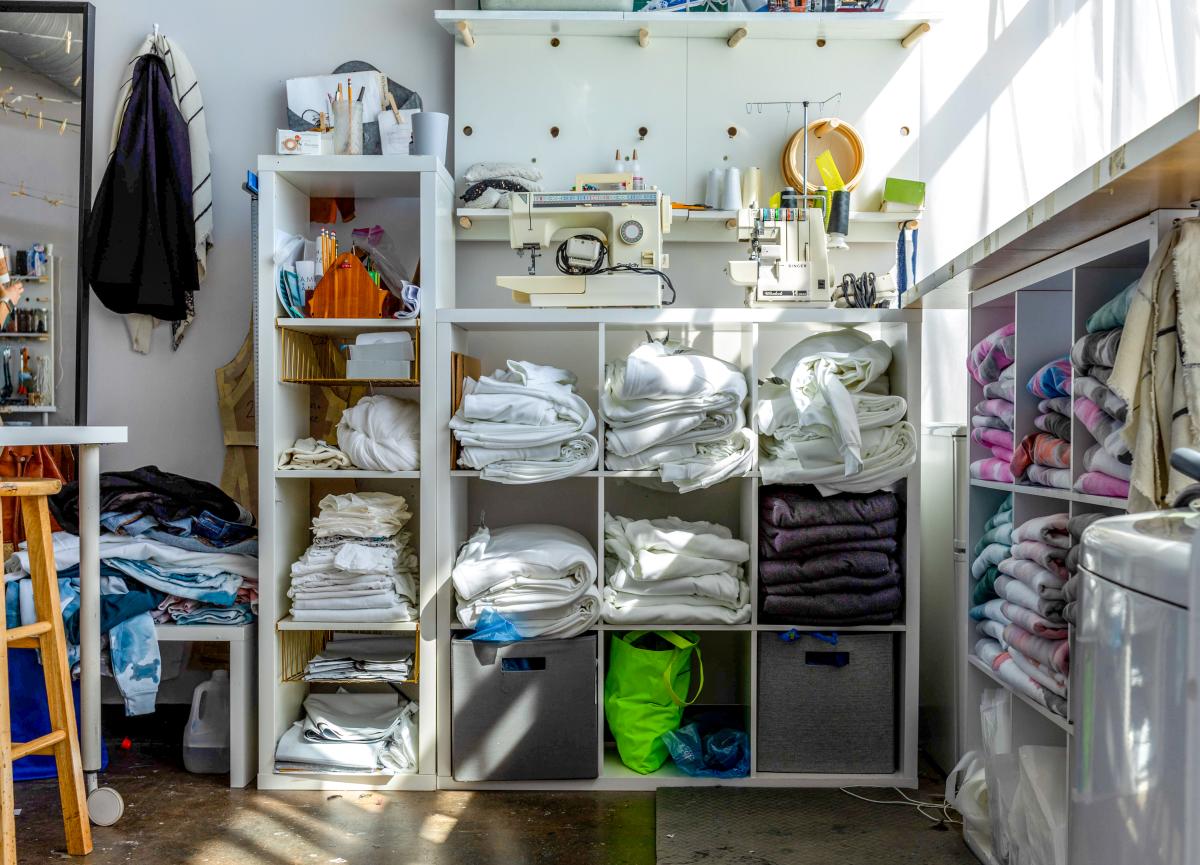 You can discover Argaman&Defiance's popular sweatshirts, accessories, and more at the Foundry Art Centre, Cozy Shop (now on Main Street St. Charles), and online at argamandefiance.com.
Artists Sunday 2020 is November 29th! Shop local art at The Foundry Art Center's Artists Sunday Sale. 
Learn more about Artists Sunday in St. Charles.
Stay tuned to read "The Art of Getting Dirty," and more unique articles about St. Charles, Missouri in the 2021 edition of Discover St. Charles Magazine.
To request your completely free copy of the 2019 Discover St. Charles Magazine, click here.